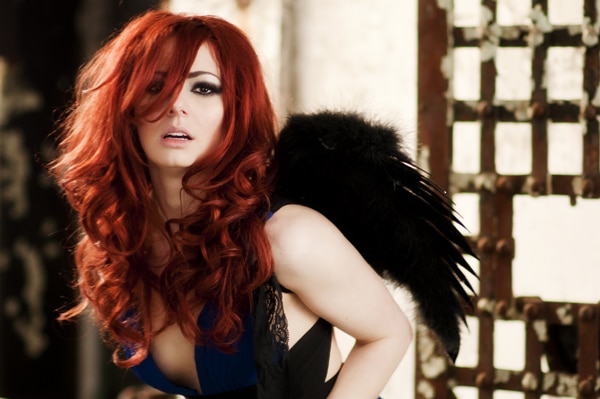 For me, the greatest part of being a photographer is seeing your vision come to life and freezing it in time.  Finding the perfect model for the perfect location.  Choosing wardrobe, finding the makeup and hairstylist who completes the look.  Finding the light.  Selecting the lens that will best serve to wrap that light around your subject.
We knew we wanted to work with Model Lily Cheshire, with her fresh, youthful energy, and her leanings toward anything dark and creepy.  I knew I wanted to work with a dark angel/raven image of femininity.  Paul made it happen with the Eastern State Penitentiary.  With the addition of Meghan Cox for hair and makeup all we had to do next was get everyone there, light it and press the shutter.
It was cold.  Lily was sick.  I encouraged her not to fight the elements.  Not to pretend we were in a nice warm studio somewhere.  To let the space speak to her.  To feel the cold, to hear the sounds, to let the 200 year old prison be a character in our story.  What I hadn't anticipated was Lily's easy sophistication.  Or how the light transformed her features into a young Sophia Loren.  Every now and then a shoot is just magic.
http://www.blackwhiteandraw.com/wp-content/uploads/2013/01/featured-image.jpg
399
600
lori
http://www.blackwhiteandraw.com/wp-content/uploads/2013/11/bwr_logo.png
lori
2013-01-20 16:01:41
2013-01-20 16:06:43
Lily at Eastern State Pennitentiary