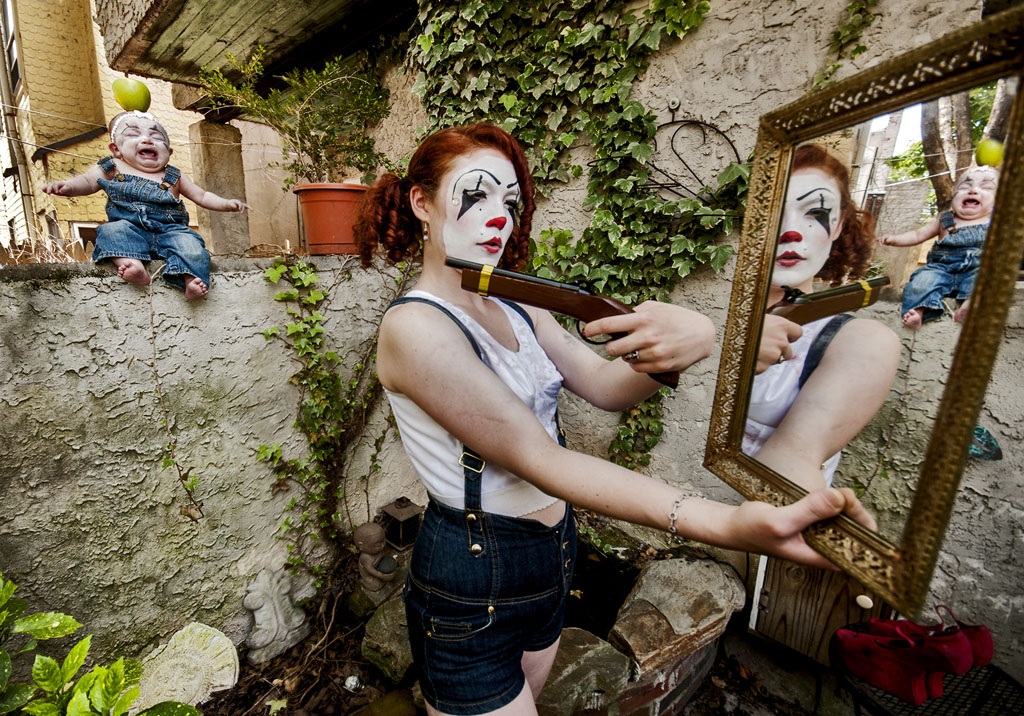 PROVACATIVE:  Causing annoyance, anger, or another strong reaction, especially deliberately.  I think this word describes our work with Reverend MacKenzie Moltov better than any other.  Whether breaking into abandoned amusement parks, cavorting naked around Center City, or shooting her as she swallows swords 7 months pregnant, MacKenzie is all about breaking the rules and challenging what the perception of pregnant women and ultimately motherhood is all about.
In our latest shoot with MacKenzie entitled "Bad Mommy", MacKenzie is joined by daughter Ulee, as she deliciously sinks into the character many of the general public perceive her to be:  A self-centered, self indulgent, sex pot, interested only in drinking, partying and being fabulous, much to the dangerous neglect of her infant.
As we went about the planning of this shoot, complete with Ulee being roasted in a pan, aborted on a bathroom floor, grilled on a barbecue and choked by a strand of pearls, I asked MacKenzie "Is it bad that all I think about is various ways to kill your baby?" "No", she replied coyly.  "I do too".  And of course, Paul couldn't resist digitally adding a few elements to further disgust, annoy, and generally piss people off.
We stepped up our clothing game this time with stylist Joey Mason armed with loads of amazing looks from Philly Aids Thrift.  I think we may have found the perfect collaborators for our twisted little team.  This one we'll be needing to revisit.  And next time, it'll be in public.
*no clown babies were harmed in the making of these photos
Invalid Displayed Gallery
http://www.blackwhiteandraw.com/wp-content/uploads/2016/09/bwr_logo.png
0
0
lori
http://www.blackwhiteandraw.com/wp-content/uploads/2016/09/bwr_logo.png
lori
2014-06-22 20:29:32
2014-06-22 20:33:46
Bad Mommy