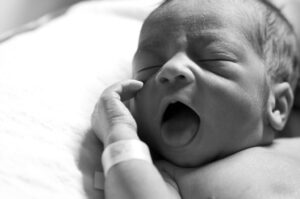 Over the past couple of months we've been fortunate to photograph a growing family.  It began with Justyne's maternity photos, followed by a baby shower, and then a hospital shoot of her gorgeous one day old son, Ahmori.  Not long ago, Justyne posted to her facebook about the common misperceptions she was facing of being a 20 year old, unwed and pregnant black woman.  It is shocking to me that in this country, people still assume that if a black woman is pregnant, it was an "accident", that there is no father present, and that she must be on welfare.
This baby was truly wanted by both his parents:  his mom and his very involved, very present father, who in one day has become a whiz at changing diapers.   Justyne is one of 14 kids, who are all very close.  This child will be loved, cared for, and supported by each and every one of them, because that's what this chaotic, crazy family is about.   He already has a pack of cousins, one only a month older than he is.  God help this child if he ever gets in trouble in school.  I have a feeling there will be a pack of angry aunts ready and waiting for him when he walks through the door.
So that's my rant of the day.  Now I need to go buy cheesecloth, to wrap this little nugget up in and get more yummy baby photos of my new favorite model.  Thanks Justyne and Kyon for letting us document your love and family.  Ahmori is truly a gift.  Enjoy every minute of him!
http://www.blackwhiteandraw.com/wp-content/uploads/2013/11/bwr_logo.png
0
0
lori
http://www.blackwhiteandraw.com/wp-content/uploads/2013/11/bwr_logo.png
lori
2013-02-21 18:35:43
2013-02-21 18:36:30
That's Ahmori!