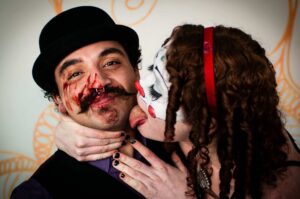 The phone rang.  Ok, it was a facebook message, but that doesn't sound nearly as poetic.  It was my favorite Clown Babe, Reverend Mackenzie Moltov.  In the land of art, photography and all that is inspirational, I think that Paul would agree with me that Mackenzie is nothing short of our sideshow muse.  She embodies all that is brilliant about the current revival of the sideshow subculture.  She is beautiful, young and edgy.  She is thoroughly modern, and just well versed enough in circus history to bend the rules without breaking them.  With the grace and lines of a classic dancer, she has the ability to completely gross you out in a classic 12 year old humor sort of way, not to mention the fact that she took off her clothes within 10 minutes of the first time we met her.  We adore photographing Mackenzie.
Our previous shoot with Mackenzie was one of my favorites.  I wondered how we would top the last one:   how she could possibly dish up something new?  This time Mackenzie wanted to shoot with her partner Alejandro Dubois.  We'd photographed Dubois in performances before and knew this may be an unbeatable sexily comedic duo.
As we began to shoot Alejandro's blockhead solos (and yes, they really do pound those nails up their noses), she began to remove the nail with her teeth.  And then there was blood.  Loads of it.  But our sexy clown babe, did not disappoint.  "Don't it clean up!  This is priceless!  Shoot me licking it!"  And so our shoot continued.  Blood licking and all.  She did again.  Right on cue.
We are in the planning stages of our next Reverend Mackenzie, Clown Babe shoot.  And this one, you really won't believe.  And we'll need extras.  Any takers?
no images were found