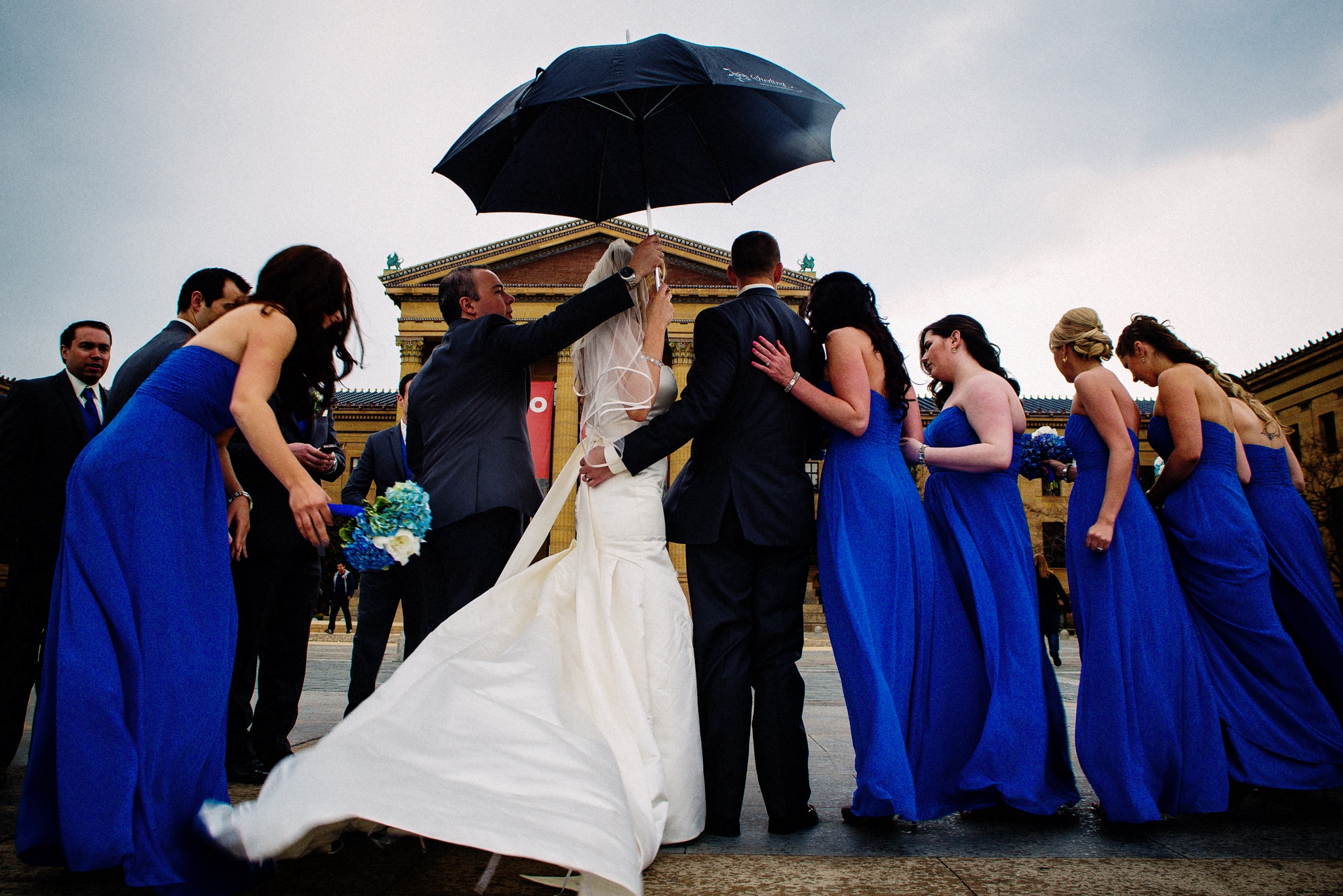 As most of the models we work with will tell you when they ask what our plan is if it rains, our answer is always "bring a cute umbrella".  I love rain.  I love rainstorms and lightning and wind that blows hair in every direction but the one you want it in.  So what happens when you're shooting the perfectly classic Philly wedding with stops planned at all the big wedding spots…the Art Museum, Love Park, and Broad Street and a torrential downpour begins?  You grab an umbrella, brave the winds and make it work.
Following Trisha and Adam's beautiful ceremony at St John the Baptist, our photo tour began.  Although the skies completely opened up while we were on the museum steps, we still managed to get some beautiful shots, and a nicely unique perspective on the standards.  Trisha was just about to call it quits on the wind and rain, when the sun burst through the clouds and gave us the opportunity for some beautiful Love Park and Broad Street shots.
For a couple of photogs who pride themselves on loving the alternative, unique, offbeat weddings we do…I gotta admit the more we dip our toes into the more traditional celebrations, the more I begin to adore them.  As long as there's a really good rainstorm, a bride and groom totally in love, and lots of love and laughter, we're good.
Invalid Displayed Gallery
http://www.blackwhiteandraw.com/wp-content/uploads/2016/09/bwr_logo.png
0
0
lori
http://www.blackwhiteandraw.com/wp-content/uploads/2016/09/bwr_logo.png
lori
2014-07-14 08:49:43
2014-07-14 08:49:43
When Rainstorms Happen to a Classic Philly Wedding