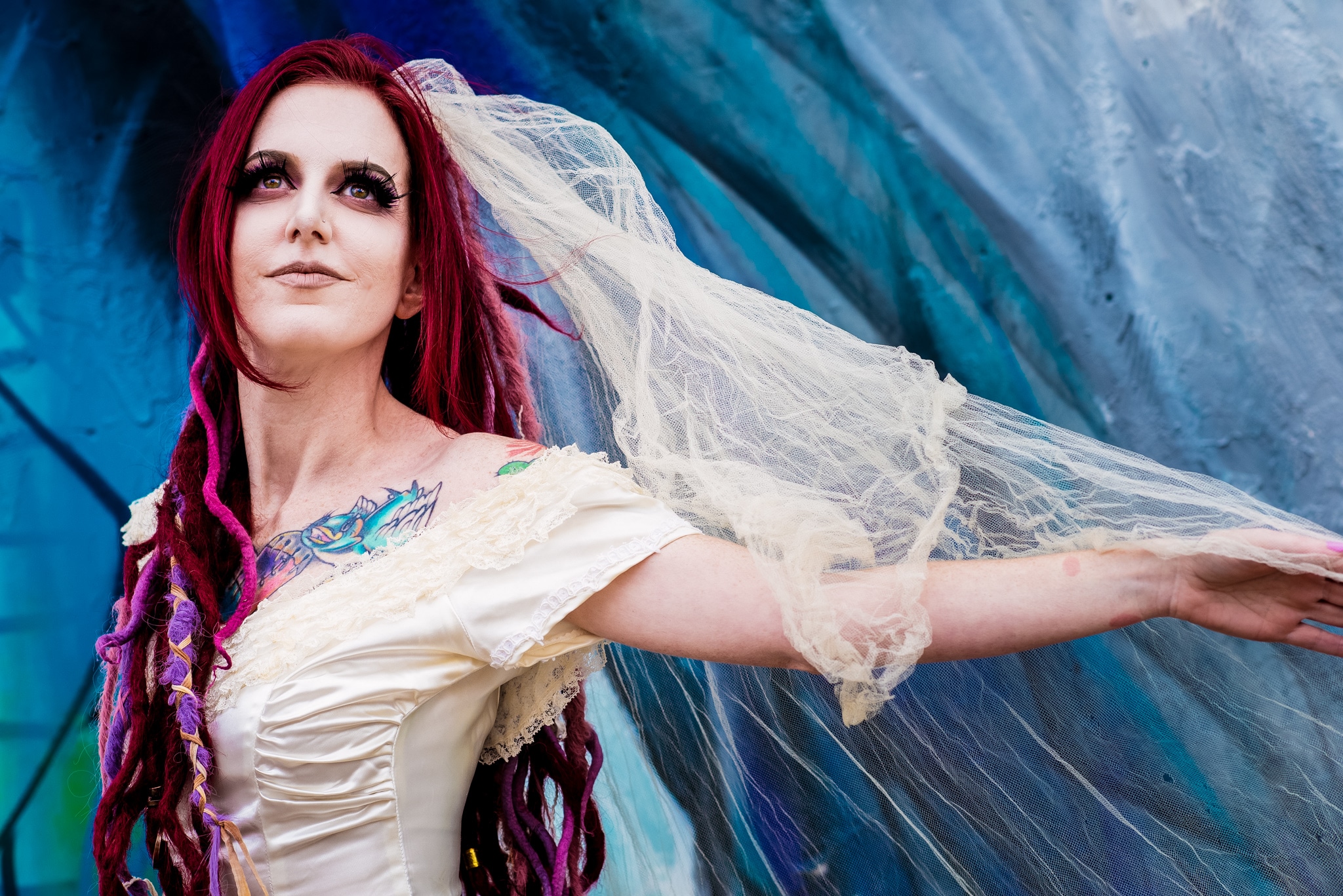 It's probably a good thing that my first contact with future bride, Crissa Rajczy, was by email because I'm not sure I would have believed my ears.  A loctician at Salon Sugar, Crissa was planning her wedding to TJ at North Bowl, a funky retro bowling alley  in Northern Liberties.  She went on to describe a costume themed wedding where she and her fiance would be dressed Victorian Corpse bride and groom,  along with her lovely teenage daughter, a princess for the evening.  As we got to know this amazing family leading up to their big day, the details got even more fabulous.  The couple would be getting hand tattoos in lieu of wedding rings which would be blessed with a smudge ceremony.  A bouquet of dried roses made by Crissa, the most lovely red and pink dredlocks ever and a chest tattoo of a patchwork, stitched together heart, made our dark little hearts leap for joy.  With the threat of impending rain, we decided to snap some family portraits in the lobby of the Sheraton in Society Hill before venturing out to Elfreth's Alley, where we thought America's oldest residential neighborhood in the U.S. would be an interesting contrast for our family.  We then headed over to North Bowl and got some stunning family and bridal portraits in front of some amazing street art, including a spectacular blue beast by Mauro Carrera.
The details at North Bowl were equally spectacular in every way.  Tiny skulls, love potions, and sparklers with black glittery matchboxes with little silver skulls.  A black and white wedding cake adorned with skulls from Puddin's Cake Corner and topped with skeletal bride and groom was perfect .  Crissa and TJ's family and friends couldn't have been any more warm and welcoming and wonderfully wacky.  Some families just touch you in a deeply personal way.  We were thrilled to have been a part of this amazingly beautiful, artistic and deeply personal celebration.  It was like a Black, White and Raw dream wedding, and I couldn't be any more smitten.  Enjoy!
Invalid Displayed Gallery
A few other great details from Crissa:
Cake was from Puddin's Cake Corner
T's costume (groom) was from Pierre's
Makeup by Kelsey Herbst
mine (bride) is a combo of my grandmothers wedding dress… my own skirt,
the bustle and wrist cuff was from www.lovechildboudoir.com
platform shoes are from unifclothing.com
my hair by me: dreadloxoxo at Salon Sugar Philadelphia
www.vagaro.com/salonsugar
corinne's (daughter) dress was from a thrift shop if you can believe that!!! $25, zero alterations! ha!!! jackpot!!!