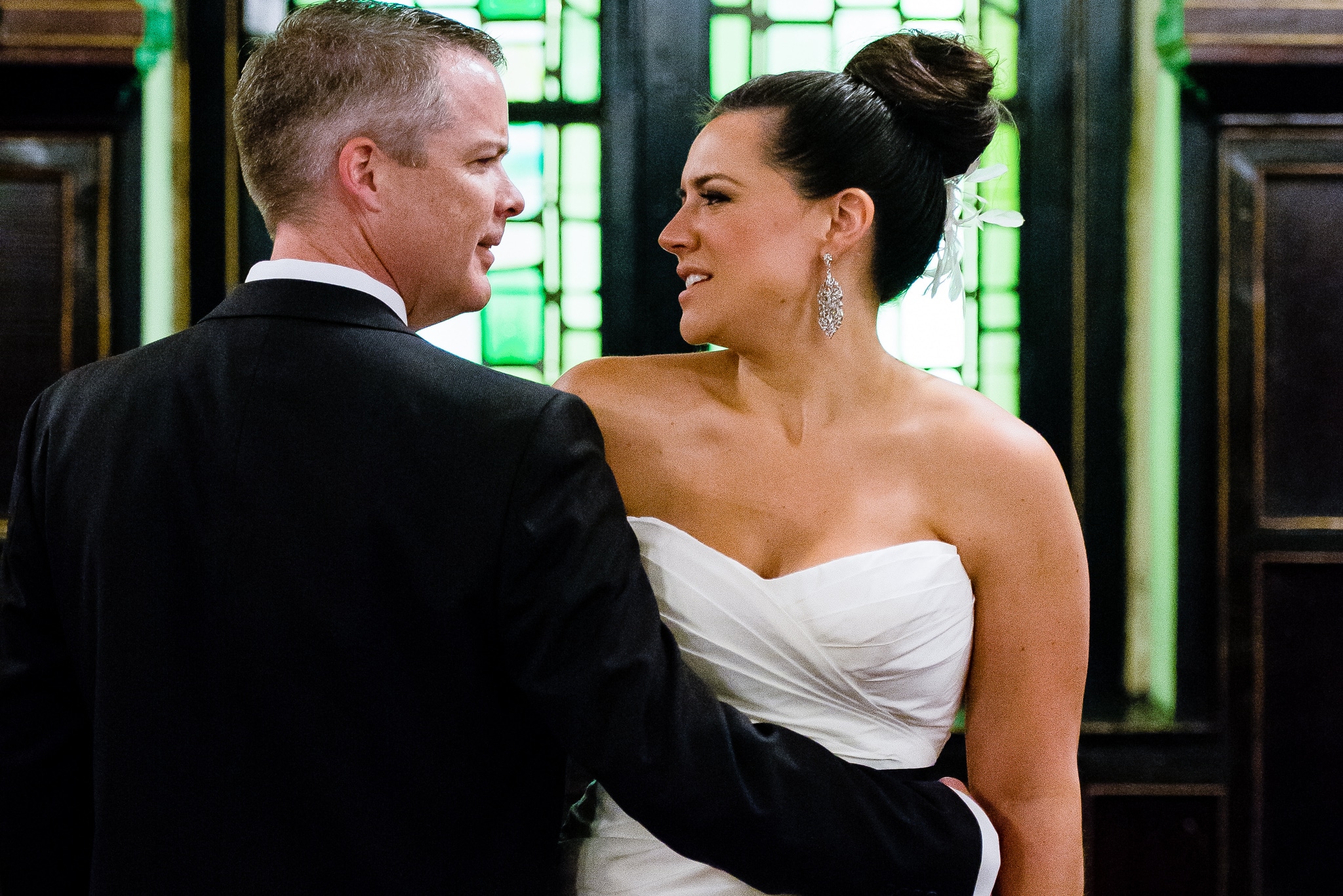 I recently had a friend of mine refer to wedding photographers as the "Macgyvers" of photography. This couldn't have been any more true of my latest gorgeous wedding at the ultra elegant Racquet Club of Philadelphia. I had been excited about Meredith and Rick's classic wedding for months. We had several plans for photos throughout the day, including bridal party and bride and groom photos in nearby Rittenhouse Park, as well as photos of the lovely couple in the historic tennis courts upstairs. I was giddy with excitement. I began to pour over photos of Audrey Hepburn and Humphrey Bogart in "Sabrina", in particular the romantic scene on the tennis court, drinking champagne and dancing in that unforgettable white Givenchy gown.
Nope. Not to happen. There was a downpour of rain, and not the pretty kind. A stroll to Rittenhouse was absolutely not happening, so we decided to forgo the park and get all of our shots in The Racquet Club. No problem. As soon as the ceremony was over, I dashed up to the fourth floor for romantic tennis court scene that I'd been dreaming of, and was met with the angry glare of 4 young Asian men in the midst of a heated match. I quickly grabbed my lightstand left with my tail between my legs. No problem. The ceremony site! I ran back down only to find a bustling staff moving chairs to flip the room. I was crushed and seemingly out of options, until I discovered my bride and groom sharing a glass of champagne in the basement of the building, a floor I didn't even know existed. With it's old wood, and stained glass windows, I was thrilled to find an area devoid of people, protected from the elements, and yes, lovely.
And so Meredith and Rick rolled with the punches, shared a romantic glass of champagne, and weathered the storm in the basement of the 150 year old building. And it was absolutely lovely. 'Cause sometimes it's amazing to find magic in a Macgyver afternoon.
no images were found