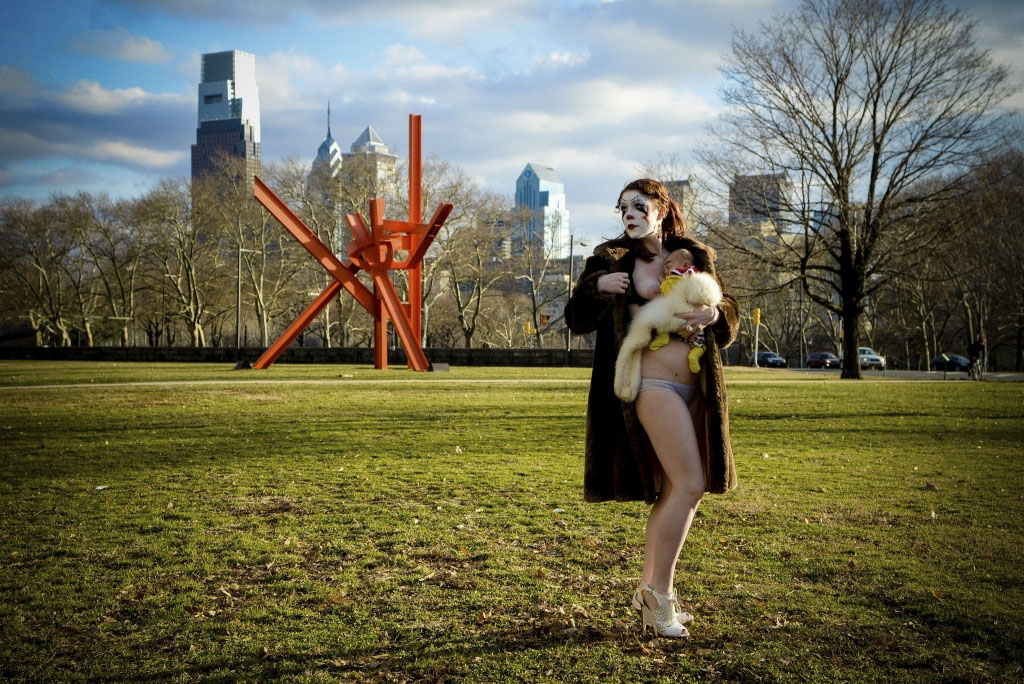 Every now and then you've got to revisit your creative roots, and do it, well, differently than you ever have before. Take it a notch higher. Bring all you've learned, all you've done, and all you love, back to the place where it all started. Paul and I got our start shooting street photography. For 2 years as we dated long distance, we would meet to walk and shoot, for hours and hours. We shot the New York City subway, parks, streets, the worst neighborhoods we could find. Not long afterwards we started shooting sideshow performers, then fashion and alternative models. So when one of our favorite sideshow performers and model, Reverend MacKenzie Moltov, came to us with an idea to attempt a public nudity stunt which would involve breast feeding her clown baby naked…we were thrilled, if not a little petrified.
The plan was to go to Center City with 2 looks. Lost Russian Clown and Hitler Charlie Chaplin, both naked. We also seriously debated whether or not baby Ulee should be in clown face or not. If naked boobs at a bus stop didn't offend and shock, we were fairly certain a Hitler mustache and a clown baby would. I warned my teenager to stay by his phone in case we ended up in jail, threw an old fur into the car to keep MacKenzie warm, packed up little Ulee with some toasty warm packets, and hit Center City.
We started with Swan Fountain. Free of both water and people, Mackenzie disrobed and cuddled little Ulee. Other than a few sideways glances and children being carefully turned away from our direction, no one seemed to care. Endorphines racing, we decided to venture closer to the art museum, Mackenzie exposing herself along the way. Still no shocked faces. I ran ahead as we reached a crosswalk for some candids. Mackenzie stepped up her game, proudly opening her coat to pedestrians as we crossed. On the other side of the street we met a mother and her young son. With a broad grin, she laughed "Can you please do that again?" We were doing it, and Philly folk were loving it.
Art Museum steps? Could we do it? Would we offend the same people walking by our naked clown to be surrounded by nudes at the museum? We were treated like rock starts. A group of tourist women from Dubai asked to take pictures with Naked MacKenzie, saying "We don't have this at home", as I'm thinking "We don't really have this in America either, so please hurry up before we get in trouble". Maybe it was too artistic a crowd of locals at the museum? We decided to take Hitler Charlie Chaplin to love park.
Under the Love Park sign? Still no problem. A young boy decided Mackenzie must be someone famous and stalked us for her autograph. His parents allowed it for longer than any of us felt comfortable with. A bus stop? People looked with a combination of amusement and surprise, and little else. At the end of our shoot, Ulee finally decided to breast feed, which we had wanted the entire afternoon. What would be better than the "Your Move" park at the Municipal Services building? An art installation meant to juxtapose childhood memories with adult responsibility. With Mackenzie perched on a giant parcheesi game piece and Ulee gently having her lunch it was a perfect moment, looking every bit like Berlin in the 1920's. As we snapped some classic black and whites, as some teenagers on bikes approached Mackenzie to take photos with her. Mackenzie sweetly obliged as the young man asked…"Uh, could you move the baby?" Game over.
no images were found