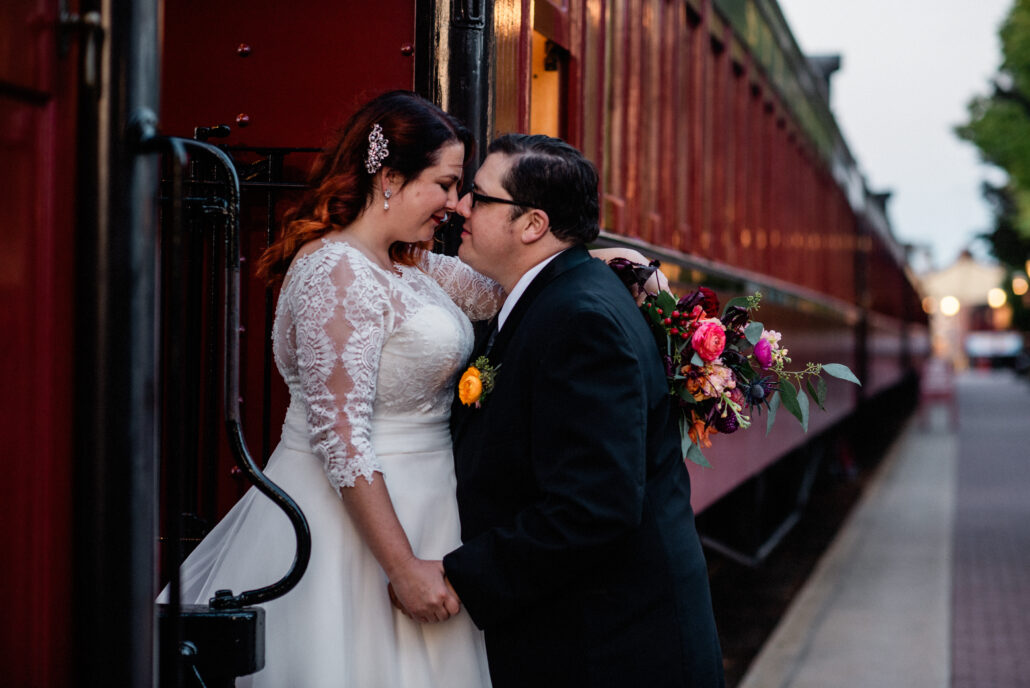 Getting Ready at the Red Caboose Motel
Lerin and Brian's sweet train wedding wasn't exactly what they'd planned. Their original reception venue cancelled due to Covid and the two were left scrambling trying to come up with an alternative for their vintage inspired, Strasburg Railroad wedding. The ceremony was to take place on the train after a ride to Paradise, Pa. The Red Caboose Motel stepped up and was able to provide cars for everyone to get ready in, as well as providing an open air tent for the reception. The Strasburg Railroad, the Red Caboose Motel and the couple did a fabulous job at keeping everyone as safe as possible. Why a train wedding, you ask?
The Proposal
BWR: How did Brian Propose?
Lerin: Brian had planned to propose to me at his family's vacation home in the Thousand Islands, right near the water. He had arranged for a time when no one else would be there. When we were about a half an hour away, his aunt texted him to say they were headed to the house too. Brian sped up to about 90 mph to get there in time for us to have privacy. I, of course, was oblivious. I was so confused why he rushed me down to the water the second we got there, but I went along with it. Then he got down on one knee and asked me, "Will you ride all the trains with me?" Being the lady that I am, I responded with, "Choo CHOO motherfucker." (All just moment before his aunt showed up!)
Strasburg Railroad Train Ride and Ceremony
The Strasburg Railroad was a suprisingly great way to keep guests as socially distanced as possible. The entire train, which has open air cars, was reserved for wedding guests. There were plenty of individuals cars, so guests could stay in small groups of close family. The cars were large and spacious. After a ride to Paradise, Lerin's walk down the "aisle" was from the back of the train through each car to the front. Then guests all got off the train to watch the ceremony.
no images were found
Couples Portraits at Strasburg Railroad
It was such a treat to have a few minutes for portraits at the Strasburg Railroad. It is America's oldest continuously operating railroad, and a really unique background for portraits.
no images were found
Red Caboose Motel Reception
The Red Caboose did a FABULOUS job keeping everyone as Covid safe as possible. The most important factor in guests staying safe and responsible is the couple setting a great example. Brian made a speech asking guests to please wear masks if they left their family's table and the couple really modeled that behavior. I've never seen so many guests masked on the dance floor. It was really wonderful. They also had seats set up outside the tent, for people who wanted to stay farther distanced, and as a vendor, I really appreciated a spot to go sit away from other guests for some fabulous BBQ.
no images were found
Advice from the Bride
BWR: What tips would you give to other couples planning a wedding during covid?
Lerin: If I could give advice to couples planning their wedding during the pandemic, the biggest tip is to plan ahead for the safety of your guests. We went out of our way to make everything as safe as possible. This way, there were fewer last minute surprises. And FLEXIBILITY! My wedding was perfect, but definitely not what I had initially planned.
Vendor List
All the decor was made or created by family or myself.