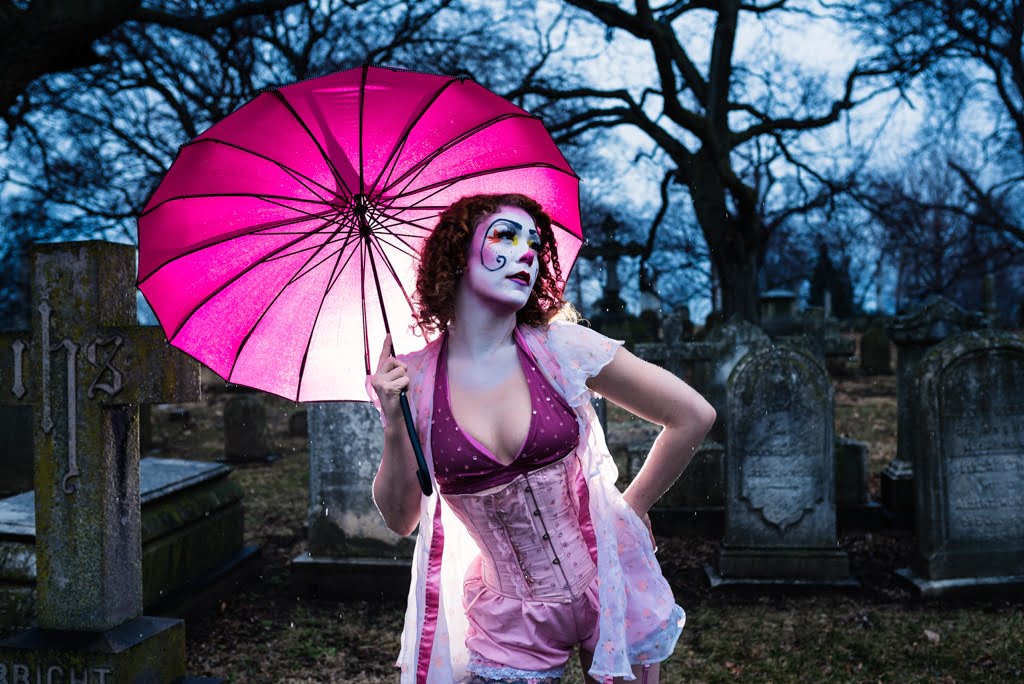 When you work as a creative, there's a delicate balance in how you spend your time and artistic energy. We're fortunate that our work involves creating art, so it would be easy to sit back and rest during our winter lull. But I'm also a firm believer in striking while the creative iron is hot. This winter, during our wedding off-season, we had several opportunities to shoot with Philadelphia sideshow performer and our favorite clown babe, MacKenzie Moltov.
The first of our winter shoots with MacKenzie this season was an abandoned Power Plant, styled by Delicious Boutique. I love that shoot, and when we do publish our "Last to Leave" series with her, I think there will be a few featured from that aftenoon . We had planned to do another location that day with completely different looks, but it was a tough shoot. We were cold and tired and just didn't have another location in us. But we found another day a few weeks later, and kept it simple with easy locations that were nearby and flexible.
It's one of my favorite shoots we've done with her. Her bubblegum pink looks were a perfect contrast to the cool blues of the cemetery. In the years we've spent photographing her, this shoot has a certain joy and lightness to it that's refreshing to be part of. When the rain became not so much fun, Paul found a great spot under a bridge to keep us dry. And then, things got a little weird, as they often do when you're under a bridge with a clown babe. We hope you enjoy these as much as we do, because the next shoot we did with her is VERY dark and emotional. If you are enjoying our work with her, please check back soon.
https://blackwhiteandraw.com/wp-content/uploads/2016/09/bwr_logo.jpg
0
0
lori
https://blackwhiteandraw.com/wp-content/uploads/2016/09/bwr_logo.jpg
lori
2018-03-25 16:34:41
2018-03-25 16:34:41
Rainy Day Play Date with Clown Babe Mackenzie Moltov