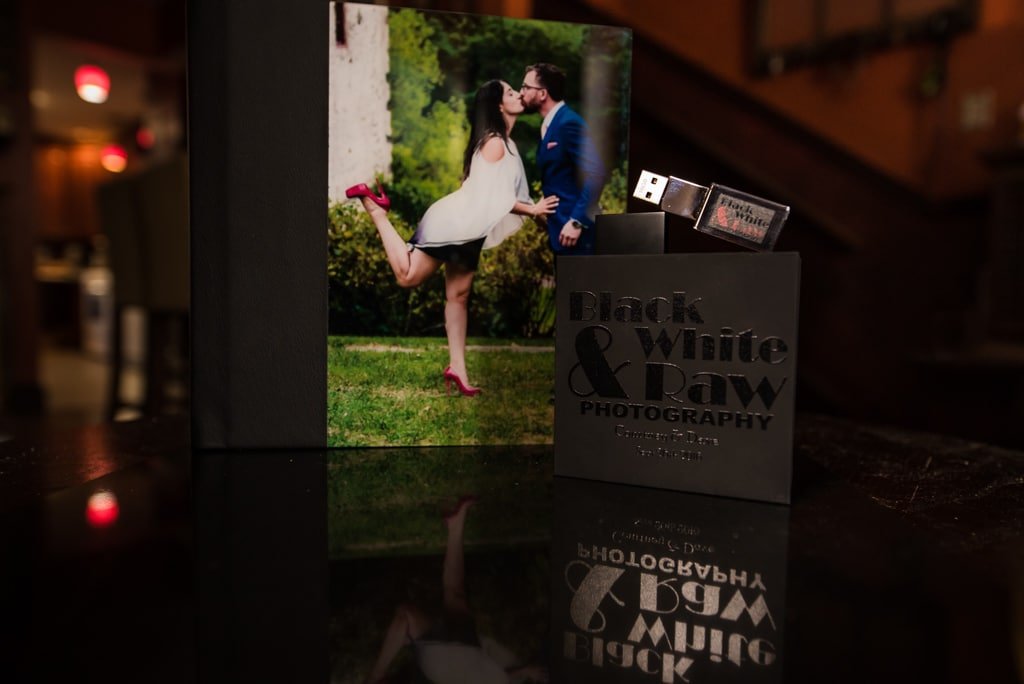 The most exciting new addition to our wedding photography is my new found passion for getting our client's artwork off the computer screen and into their lives with wedding albums and wall art. The joy of printing wedding photos is getting lost in the digital age. I didn't realize it myself until very recently and it's changed the way I view our artwork and the experience I want to give to our clients. Our work is frequently described as "artistic" and "dramatic". In the midst of a chaotic wedding day we always make sure to create truly unique artwork. Artwork should live in your home to be treasured. We want to create pieces our clients can hold in their hands and pass down to their children. I want our clients to walk away with more than just a link on a screen.
We began shooting weddings with a desire to do things differently than other Philadelphia wedding studios. I was working for a high-end wedding photography studio who charged $1400.00 for digital downloads. I couldn't believe that clients were spending so much on photography coverage without getting the photos included. I knew right away that I wanted to give high resolution downloads to every client. I felt that they should have the option to make their own prints and albums. I was a little overwhelmed by the printing process and it seemed easier to let clients handle it themselves.
If I was overwhelmed by printing, I should have known most of our clients were going to have an even tougher time. Clients who wanted to design their own albums would get intimated trying to select the best of all of the photos from the day, let alone find a decent consumer grade printer. Photos that clients adored were being shared on social media, but that was about it. I encouraged clients to download to at least 2 places, but that didn't always happen. Years go by and clients forget where they've saved their photos. Hard drives get dropped. On-line cloud storage gets corrupted. Things happen. Trust me on this one. If it's devastating for me and it wasn't even my wedding, I can't imagine how awful it would be to lose everything from the most important day of my life.
Designing artwork from our clients photos has been an absolute joy. I learned to love wedding album design. I found a printer who only works with photographers and creates products our clients can't get from consumer grade printers. They can get me a wide variety of beautiful products I can customize to suit our brand. I want to offer my clients stunning artwork in a variety of mediums to hang on their walls and print in archival wedding albums guaranteed to last hundreds of years. I want products our clients can touch, and be proud to have in their homes and pass down to their children. And that's what I've been working on.
We're enormously proud of the beginnings of our new product line. Our wedding albums and thumb drive samples are starting to come in and I'm obsessed with the quality. We've changed our proofing site to make it easier for client to order prints and wall art directly from their galleries. I've discovered a passion for telling the story of your day through a beautiful art book that you will never tire of looking at. Our "All Inclusive" package will include one of these gorgeous wedding albums, a thumb drive and a customized box for safe keeping. Everything can also be ordered separately and past clients are more than welcome to order as well. I'm selecting a wide variety that will work well with everything from elegant traditional weddings to our dark and creepy non-traditional couples. These are just a few of our current favorites.
Wedding Albums
The Leather Collection
Our 10×10 distressed leather wedding albums with thick pages are my personal favorite. The distressed leather is beautiful and comes in 4 colors. We have a variety of Italian full grain leathers, both in distressed and standard leathers. The cover shown is in "Timber" with a cameo cover.
no images were found
Duplicate parent wedding albums are available at a reduced rate. I loved preparing Christmas gifts for our clients and their families this year. This set was ordered in the standard leather "Nightfall" which is beautiful for a wide variety of weddings and engagement shoots. I have sample swatches of all the covers we sell in case our clients want to see and feel them before ordering.
no images were found
BWR Thumb Drives and Boxes
The Acrylic Collection
Our latest set of products is the Acrylic line. They feel so heavy, so modern and clean. The black on black slide box feels luxurious. The thumb drive is elegant and feels special. The photos below feature an 8×8 engagement album with the acrylic cover upgrade. These are perfect for our modern city brides.
no images were found
The next wedding albums we'll be working on will be wood, which we think will be perfect for our more rustic themed weddings, along with linen as an option for our vegan friends.
Our next product offering will be wall art! We are printing like mad. Metal prints, canvas gallery wraps and fine art paper. Paul is building beautiful frames from reclaimed wood and a display wall. We will always continue to offer digital downloads with our wedding photography coverage at no additional cost, but now I want you to have artwork that will last a lifetime. I promise you'll be blown away.