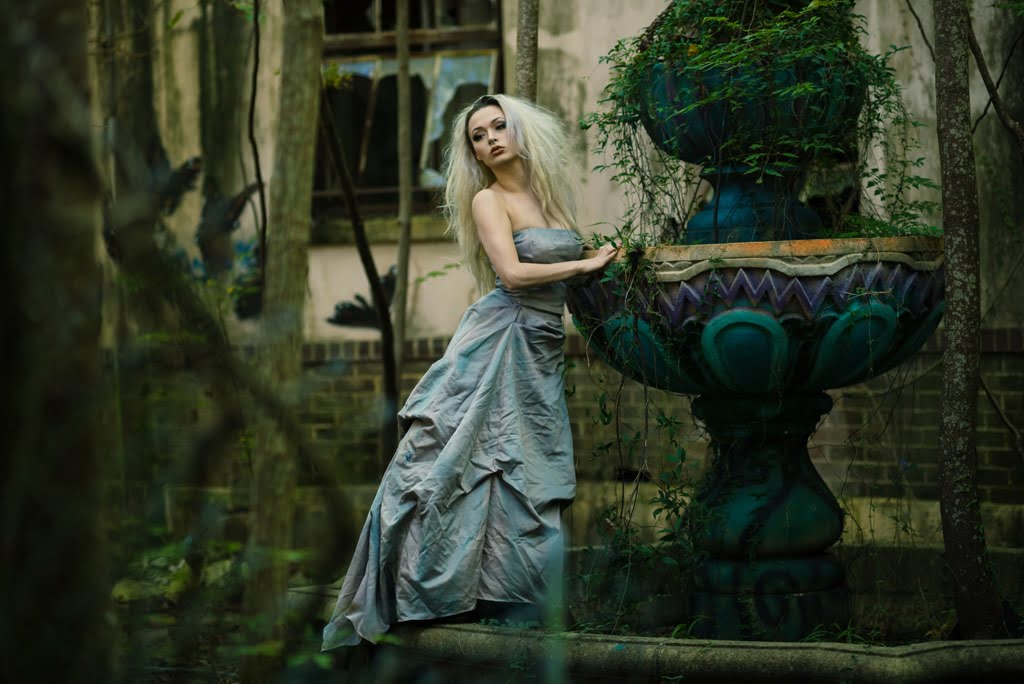 Photographing abandoned New Orleans has been a goal of ours for several years. We've always loved exploring abandoned locations and have a passion for photographing models in them. Most of our abandoned work has been our series Last To Leave with sideshow performer Mackenzie Moltov. I think our work in abandoned locations is some of our very best and most artistically satisfying. It is important to us to bring beauty into these devastated and decaying structures before they're gone. We always treat our locations with respect, and never remove anything or cause further damage. We love to show the beauty in abandonment, the poetry in being shattered, the strength found in the most vulnerable of places. Of all the photos we've produced together, I think these are the most profound for both of us. I can't thank Chere Noble enough for being the latest collaborator to bring these images to life.
Our abandoned model shoots are tricky to coordinate. Traveling to photograph abandoned New Orleans was going to be even more challenging. No matter how much location research you do, there is always a chance of limited access or increased surveillance. Photographing a model requires pretty light, so we need to get in heavy bags of gear and lighting equipment. Choosing your models carefully is crucial. I love using burlesque performers. Artists who quickly understand your vision for the space and help tell your story with wardrobe and hair changes is key. You need someone who can tune out the physical fear of dangerously crumbling buildings, the threat of not knowing who may be lurking in the dark corners, and who is willing to risk arrest for the sake of art. Chere Noble was the perfect choice for abandoned New Orleans.
We rented a car and spent a day scouting locations. We decided to challenge ourselves with minimal external lighting, so good natural light was essential. Our research led us to the Touro-Shakespeare Home, a nursing home abandoned during hurricane Katrina. I don't normally share our locations, as it contributes to their destruction once word gets out to the urbex community. But given the current climate, 12 years after hurricane Katrina felt like an important time to show the destruction left by natural disasters over a decade later.
The three story, neo-classical building was built in 1929, and designed to care for approximately 175 residents. Originally established by philanthropist Judah Touro, the first building was designed to house the city's elderly poor, with a stipulation that it would eventually go to the control of New Orleans. This last iteration of Touro's kindness that we explored remained operational for 72 years, first as the city almshouse, and later as a senior care facility. In 2005, in the days preceding Hurricane Katrina, 120 residents were successfully evacuated. They were never allowed to return, and the city of New Orleans remains in control of the building.
We knew we wanted a local dancer to work with, and Chere Noble was the perfect model to help tell our story. Not only is she stunningly beautiful, she is a total pro, arriving with an armload of looks. A purple ballgown for the graffiti covered chapel and overgrown courtyard had a dark fairy tale look that was hauntingly beautiful. We were able to create some interesting light with nothing but a couple of flashes tucked into various corners. Behind the building, a demolished and shattered car was a perfect backdrop for a Sara Connor inspired look. We then moved on to the lower ninth ward, the worst of the Katrina devastated neighborhoods. Chere channeled her inner post-apocalyptic bad ass babe in an abandoned house, and then bathed in some late afternoon sunlight in fishnets and a corset in a long abandoned gas station.
New Orleans has become a yearly escape and constant source of inspiration in our work and our lives. It was truly special to have such a gorgeous shoot there. I can't wait to get back and find more of these amazing, hauntingly beautiful spots in abandoned New Orleans.
no images were found