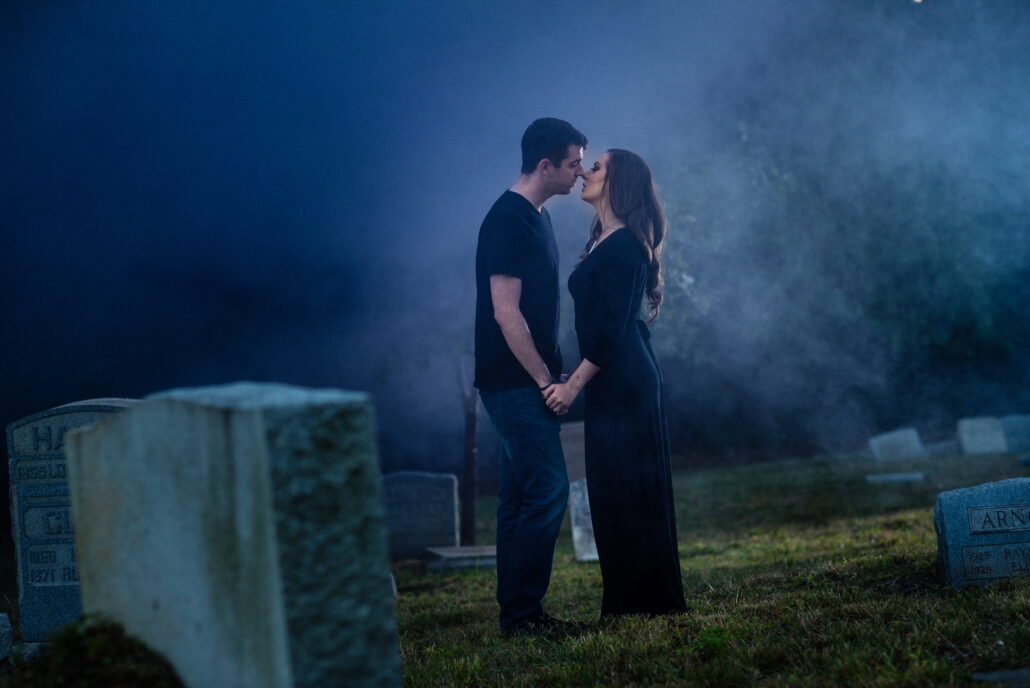 Sometimes friendships and artistic model shoots and unique wedding photography all collide in the most rewarding way possible. Lily and Joe's Philadelphia Cemetery Engagement Shoot is only the beginning of our documenting their wedding, and I've never been more excited to photograph an event in my life. Not only do I get to see every moment of one of my closest friends' wedding day, I get to create art with her once again. Her taste and creativity are truly stunning and I've treasured every collaboration we've had with her.
Paul and I met Lily shortly after I moved to Philadelphia. It was a First Friday in Old City and she was modeling for the opening of a body paint gallery. We were shooting everything we could in those days, and shortly after sending her some photos from the event, we all decided we needed to shoot together. Our first shoot was at Eastern State Penitentiary, and she quickly became one of our favorite models to work with. Lily is an artist, and loves all things dark and gothic and creepy. We teamed up with Jennifer Haines Makeup and Hair Artistry for our series with Lily of haunted locations in Philadelphia. Jenn is one of my favorite makeup and hair stylists in Philly and we've done every type of shoot with her from boudoir to weddings to model shoots and I'm thrilled she's part of our team once again. Her darker makeup is edgy and sexy and beautiful and I never have to touch a face she's made up. I can't help but feeling that photographing Lily in these beautiful old locations also helped shape our work as we formed as our wedding photography grew, even using Lily as a model as a practice bride for a styled bridal shoot in Rittenhouse park.
I remember Lily telling me about Joe over jalapeno margaritas at National Mechanics. She had reconnected with a friend from home who had enlisted in the army and was stationed in Italy. She couldn't stop talking about him and looked the happiest I'd ever seen her. Four years and a marriage proposal later, and we're fortunate enough to photograph the biggest moment in our friends life. Their wedding is in the fall, and Lily is incorporating her love of Halloween and gothic romance with white pumpkins and dark flowers. I LIVE for Pinterest notifications from her wedding inspiration board. For their Philadelphia Cemetery Engagement Shoot, she decorated their little Philly backyard with an amazing display of pumpkins, skulls and goth decor for some photos with their kitties, Trouble and Mr Bones, the one eyed cat. (You can follow their adventures @mrbones_and_trouble) Although we wanted to shoot at Laurel Hill Cemetery, their fees have gotten ridiculous, so we used a local cemetery that worked just as beautifully. A few smoke bombs and some snuggles among the tombstones later and we have one of my all time favorite engagement shoots. Thanks Lily and Joe, let's do it even bigger in a year!
no images were found
Makeup and Hair by Jenn Haines