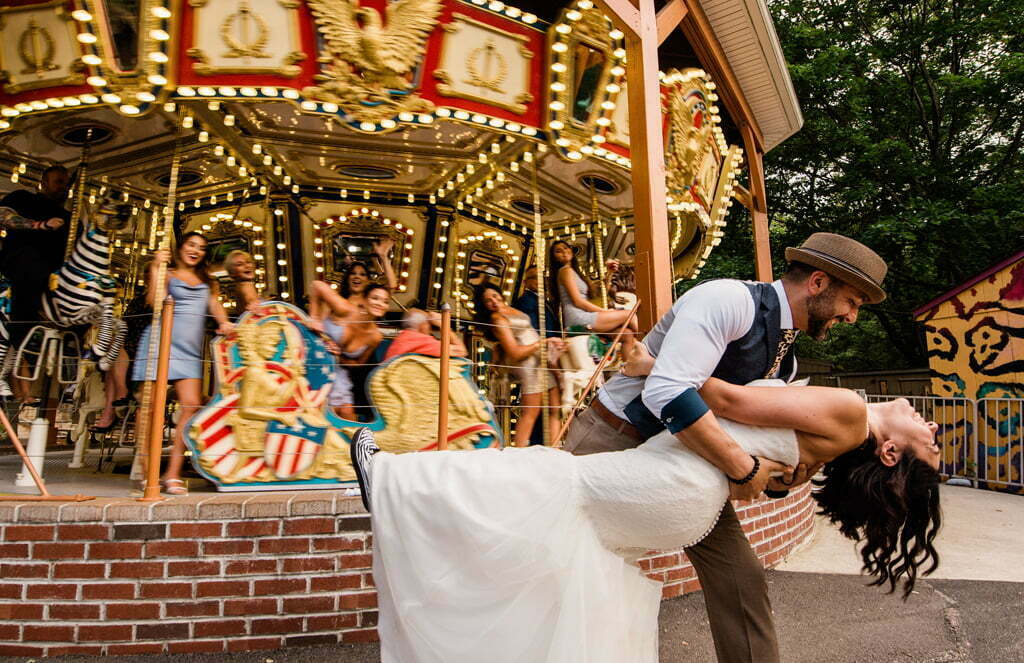 Suron and Joey's Elmwood Park Zoo wedding was absolutely one I will never forget. After the zoo closed to the public, the bride, groom and wedding guests had the beautiful zoo all to themselves! Giraffes patiently waited for the nupials to end, so everyone could come give them lettuce treats. Jaguars were the sleepiest guests at cocktail hour, and guests were given a hour to enjoy their cocktails on the carousel before heading over to their fabulous Elmwood Park Zoo wedding reception.
The Proposal
"Joey proposed in December 2017, a week before Christmas. He had the ring wrapped under the tree for several weeks and kept trying to get me to pick an early present to open and I kept saying no. Then, instead of opening the one he and the boys were trying to get me to open, I'd pick a different one. I finally agreed to open one he picked and Jacob was recording it. I open this box and it has a jewel encrusted egg in it and I'm like "oh – it's an egg – um, pretty". The video clearly shows that I'm trying to be nice over this odd gift. Then he kneels down to open it and the ring was inside and proposes alongside the kids. It was funny and sweet and I keep the ring in the egg by my bed when I sleep. Oh and now when he wants me to open presents I will."
First Look
"I actually really loved walking up behind him at the first look. I am sure I was nervous giggling."
no images were found
The Venue
"We love Elmwood Park Zoo. Having gone many times as a family, it's a place we have memories. I wanted a place we could revisit – and can go anytime. Now even feels more like our place. Next we are going to get a brick engraved with our date/names and have that at the zoo."
Wedding Inspiration
Since it was at the zoo, we had a subtle animal theme. The Brides/bridesmaids were zebras, and the Groom/groomsman were jaguars. Moms were owls, and dads (not present for health reasons) were eagles. We got small gifts in those animal themes for each of the wedding party. Other than that we didn't have a strong theme. The zoo was the anchor.
Family Photos
no images were found
Ceremony
"One of my best memories is having my boys with me – arm in arm – walking me down the aisle. Exchanging the rings with Joey and us fumbling around, not knowing how to do it smoothly or repeat the words properly."
no images were found
Giraffe Feeding
We are animal lovers so if we were going to spend a load of money, we wanted it to benefit something other than ourselves and this would benefit the zoo/animals.
no images were found
Cocktail Hour
no images were found
Reception
no images were found
Photo Walk
no images were found
Best Memory
We had planned a rather odd slow song for our last song, from the show Supernatural. The episode where chuck reveals he is God, he sings Fare Thee Well. Our DJ had to pull it from YouTube. So all our guests leave literally right before we would play our last song. So joey and I, alone in our big canopy garden room with low lighting got to have a moment alone – to slow dance to this song which was utterly perfect for that moment. We didn't realize anyone was there and then at the end we kissed and suddenly heard clapping as some of the staff were in the room.
Planning the Wedding
"I like to plan parties, used to do it all the time for the kids, I often am responsible for planning large meetings at work. I am overly fixated on the organization and planning of things so it was good but a bit stressful. At least until the day of – on the day I got nervous but relaxed and didn't even care about any of the details. I wish a tiny bit I would have been more organized on the day of only cause it was such a blur and wished I had remembered to say or do something. The best part of planning though was pulling the trigger on reaching out and securing the vendors I wanted to work with. No regrets on anyone!"
Advice for Future Couples
"It's only one day, so treat yourself to the things you want (vendors, get those paper flowers on etsy!, get the custom vans) – and remember to be nice to family and friends – don't let stress of planning ruin anyone else's day."
Vendor Experience
"Fantastic all around. You have to pick vendors you want and trust and if you do, it makes that part of planning easy and stress free"
Donuts: Duck Donuts
Cake: Bredenbecks Bakery
Dj: Stylus DJ/Amber Lynn
Flowers: Dana's Paper Flowers
Dress: David's Bridal
Hair and Makeup: Elegance Artistry
Leather Animal Masks: Liddy Mae Masquerade
Photos by Lori Foxworth and Paul Cofield of Black, White and Raw Photography