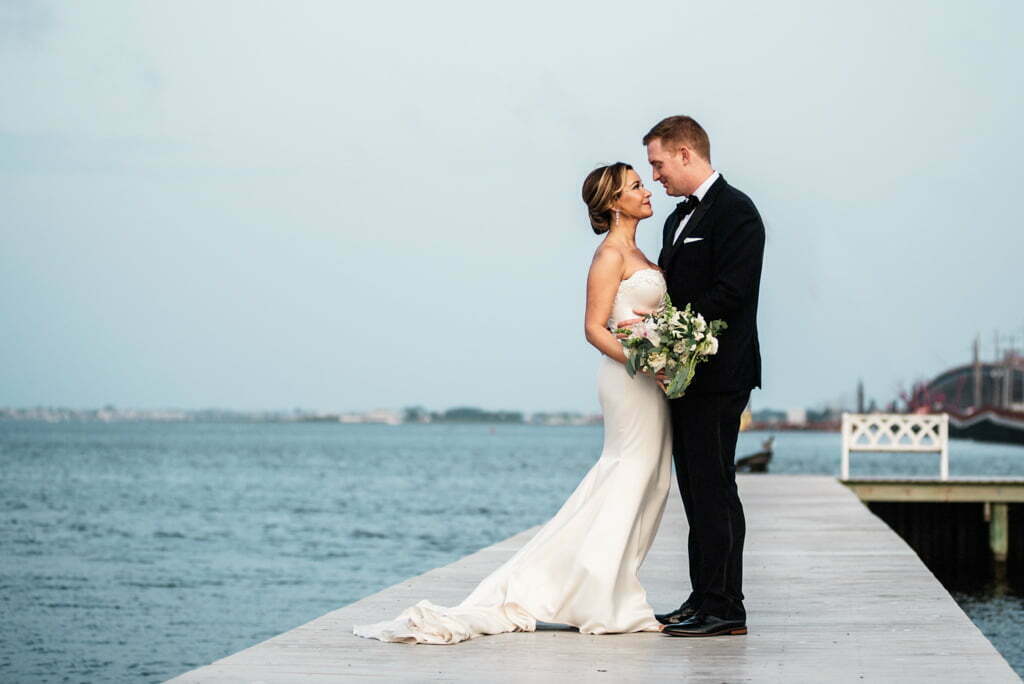 Discount Offer! $300 off any 2020 Mallard Island Yacht Club Wedding
with Black, White and Raw Photography
Use the Code "MallardIslandSummer"
There's nothing quite like a summer Mallard Island Yacht Club Wedding! One of my favorite venues for a New Jersey summer wedding, it's a real treat to photograph. Ashley and Evan's wedding day was filled with such lovely summer wedding inspiration, I had to share a few.
Scroll to see highlights of the day, or click to jump to a specific section!
Prep
Ashley was an absolutely stunning bride, flawless in her Kleinfeld gown. Her bridesmaids wore a soft grey, which was lovely with all the stone work around the venue as well as their soft, pastel bouquets. The bridal suite at the Mallard Island Yacht Club is one of the most beautiful ones I've ever seen. With plenty of space for large wedding parties to have hair and makeup done and for family to gather before or after the ceremony. It's filled with beautiful furniture perfect for detail shots and natural light which begs for beautiful pre-ceremony portraits. For couples staying the night, it must be a spectacular place to wake up as a married couple.
no images were found
Ceremony
There's a beautiful little stone chapel for the wedding ceremony. It can also be used for photos before the ceremony in case of bad weather. One word of caution, the chapel can be a bit of a wind tunnel. I don't suggest complicated up-dos for women's hair in this space. Easy hair that won't get completely destroyed in the wind is definitely key here! At night, they leave candles burning in the chapel which can make for beautiful night portraits if couples can tear themselves away from their reception!
no images were found
Photo Walk
There are so many beautiful spots for photo walks with the bride and groom. For couples that want to feel their toes in the sand, there's a little private beach beside a lawn filled with lawn games for cocktail hour as well as a pier for brides who want water in the background without getting sand on their dress. There are so many options for photo spots, I feel like I've barely scratched the surface in the last 3 years of shooting there.
no images were found
Mallard Island Yacht Club Reception
Some of the best wedding bands I've seen have been at the Mallard Island Yacht Club. It is one of the tougher spots to talk couple into going out for some night portraits, but SO worth it when you do! The food is amazing, the staff is always friendly and organized, and it's just a joy to shoot in every way. In fact, I'd love to book a few there for summer 2020. So, I'm offering $300 off any 8 hour (or longer) package there. Just mention "MallardIslandSummer" to take advantage of this offer!
no images were found
VENDOR LIST