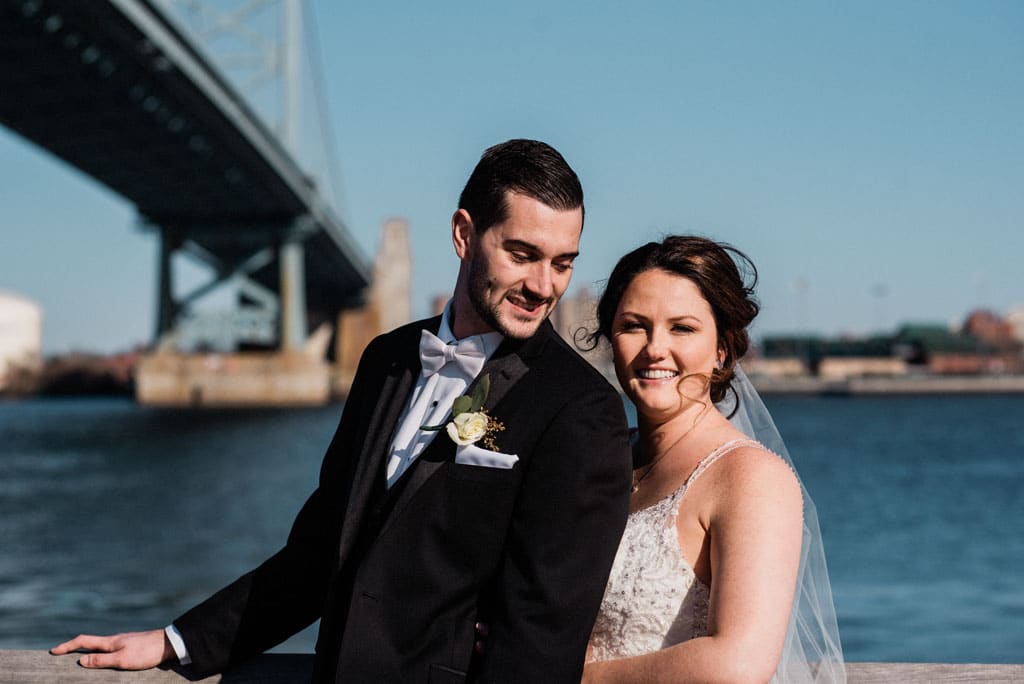 Beth and Kyle's Northeast Philadelphia wedding with a photo stop at Race Street Pier, was a true joy to be part of. I've been fortunate to shoot the weddings and engagements of several of Beth's friends and bridesmaids, and there's no more comfortable wedding to photograph than one where you know several of the guests and wedding party. We've also been fortunate to photograph SO many weddings at St. Christopher's Church and The Philadelphia Ballroom, it's great to see the same faces and know you're in good hands for the day.
Scroll to see the highlights of the day, or click to jump to a specific part!
St. Christopher's Wedding Ceremony
Race Street Pier Wedding Photos
Philadelphia Ballroom Reception
Family Home Prep
We started the day at Beth's family home in Northeast Philadelphia. I love shooting prep in family homes. It's such an intimate environment, and allows us to showcase our couples homes and neighborhoods. Beth's gorgeous wedding dress and bridesmaid dresses were from L&H Bridal. I loved the cool aqua bridesmaids dresses she chose for her warm, sunny day. Her flower bouquets from London Flower Creative completed the bright spring look.
no images were found
St Christopher Wedding Ceremony
The weddings we've photographed at St. Christopher's Church always have special meaning to the families. Most of the couples have grown up in the church and several went to school there as children. It's a very thriving, catholic community in Northeast Philadelphia filled with lovely families.
no images were found
Race Street Pier Wedding Photos
Race Street Pier is always a great spot for wedding photos. The sun was particularly harsh that day, so after some bridge photos with the bridal party, we dipped to a nearby spot that's always shielded from the elements. I knew the blue doors would be the perfect compliment to the girl's dresses and Beth's blue eyes!
no images were found
Philadelphia Ballroom Reception
The Philadelphia Ballroom has become a popular venue choice in Northeast Philadelphia, and I'm pretty sure it's all because of Mr Lee! He's one of my favorite Matre d's in the city. His events are flawless, both the couple and the vendors taken care of from beginning to end and NO one is prouder of their dessert bar than Mr Lee. Trust me, if you're a dessert person, this is your venue. VIP DJ Entertainment had people up and dancing before the introductions even happened.
no images were found
VIDEO
Our friends at Sky Orphan Productions were our media partners on this one, and I can't wait to see the story of Beth and Kyle's day from their point of view. If you are considering video for a Black, White and Raw Wedding, please reach out to myself or them directly. Their videos are truly special and the perfect compliment to our work.
All photos by Lori Foxworth and Paul Cofield of Black, White and Raw Photography