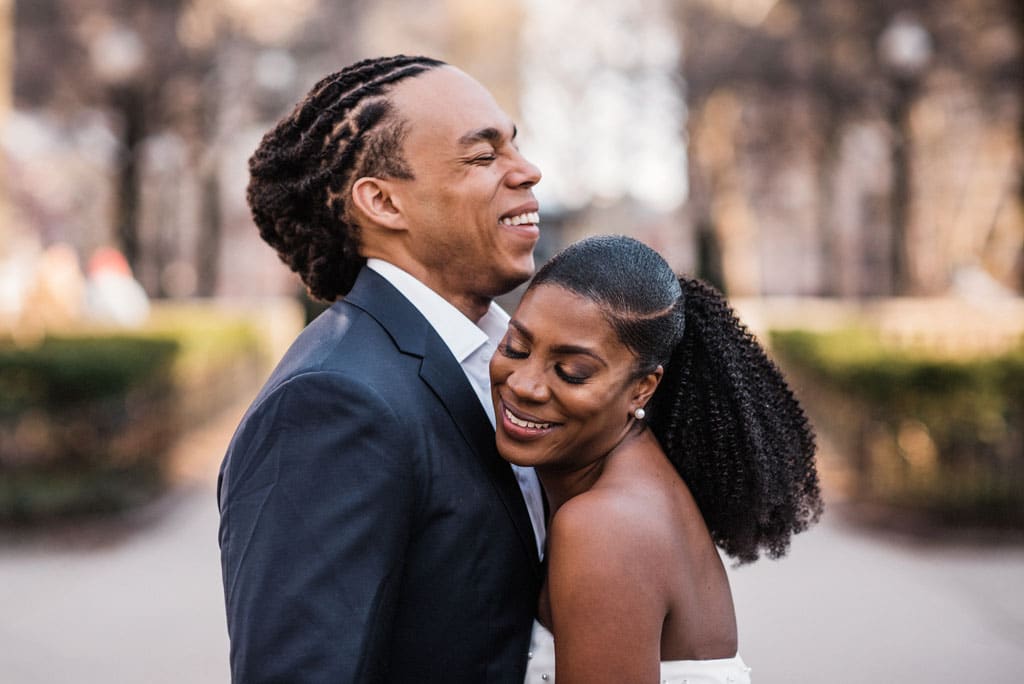 I will always love shooting Rittenhouse wedding photos. Rittenhouse Square reminds me of the days when Paul and I would stroll the park with cameras taking photos of all the beautiful, interesting people hanging out there. I didn't realize that a few short years later, I would be fortunate to have clients who wanted photos of what I already loved doing. So when Rasheedah called me about her upcoming wedding at The Philadelphia Wedding Chapel, I was thrilled that she wanted to take a nice photo walk afterwards in one of my favorite parks in the city. The Philadelphia Wedding Chapel is one of our favorite venues for weddings and elopements. It's a New York style loft space in East Falls, and they do a beautiful job with everything from private elopements to ceremonies for up to 50 people. I love shooting there so much, I have special pricing for ceremonies there. Please reach out to me if you're interested in our pricing for the chapel.
Rasheedah and William had about 30 family members at the chapel, followed by cake and a champagne toast. After leaving the Chapel, the couple wanted to stop for photos in their favorite coffee shop in Center City, the Nook Bakery and Coffee. They both work near the cafe, and have spent many hours there together. We then walked to Rittenhouse Square and took advantage of the warm afternoon light. Rasheedah and William were a joy to spend a few hours with. A couple who is so focused on each other, so clearly in love and natural with each other. I'm extraordinarily grateful to have been a part of their wedding day.
Scroll to see the highlights of the day, or click to jump to a specific part!
Philadelphia Wedding Chapel
Philadelphia Wedding Chapel Reception
Nook Bakery and Coffee
Rittenhouse Square Wedding Photos
Philadelphia Wedding Chapel
no images were found
Philadelphia Wedding Chapel Reception
no images were found
Nook Bakery and Coffee
no images were found
Rittenhouse Square Wedding Photos
no images were found