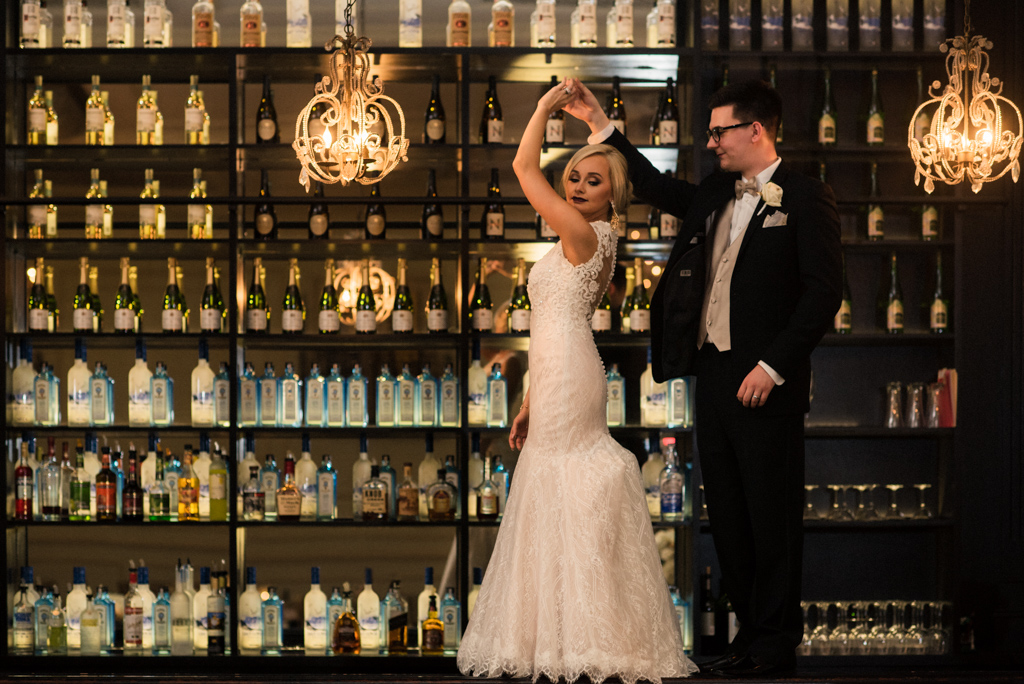 I can't think of a more perfect Philadelphia venue for a wedding inspired by old Hollywood glamour than the Cescaphe Ballroom, an old world ballroom located in Northern Liberties, transformed from the once renown Imperial Movie Theater. It's a classic, opulent space with warm wood bars, chandeliers dripping with ropes of pearls, and a classic bridal suite with a balcony overlooking the ballroom.
Katie and Matt's old Hollywood glamour theme was one of my favorites of last season. Katie's makeup was perfect with bold, purple lips and big, dramatic earrings. The couple's color theme of black, ivory and gold, with touches of rose gold was incorporated throughout the day, from Katie's vintage rose gold ring to their stunning black and gold cake and even blush pink champagne in gold fluted glasses. The bridal suite is lovely, but requires a little lighting love since it doesn't have the natural light I prefer when shooting bridal prep. My magmod diffusers were the perfect choice, small and unobtrusive enough to create some soft, pretty bridal portraits before the ceremony.
The Cescaphe Event Group's 90 minute cocktail hour is a great time to play in the empty ballroom before guests enter. I love that they let couple's jump on the bar for a celebratory photo, and they are always some of my favorite Philly wedding photos. Katie changed into one of the most stunning gold gowns I've ever seen for dessert. The dessert hour is unmatched in the city, with a private dessert flambe before the couple shares dessert overlooking the grand ballroom. I managed to pull them off of the dance floor for some beautiful night portraits in front of the ballroom, again with my magmods, this time with a pop of a blue gel for some moody romance. It was an absolutely stunning evening, and I'm deeply grateful to have been part of it.
no images were found
Kremp Florist
, 220 Davisville Road, Willow Grove, PA, 19090
Le Bella Donna Bridal & Formal Shop
, 319 York Road, Jenkintown, PA, 19046
Pat and Sean Kelly
Cescaphe Ballroom
, 923 North 2nd Street, Philadelphia, PA, 19123