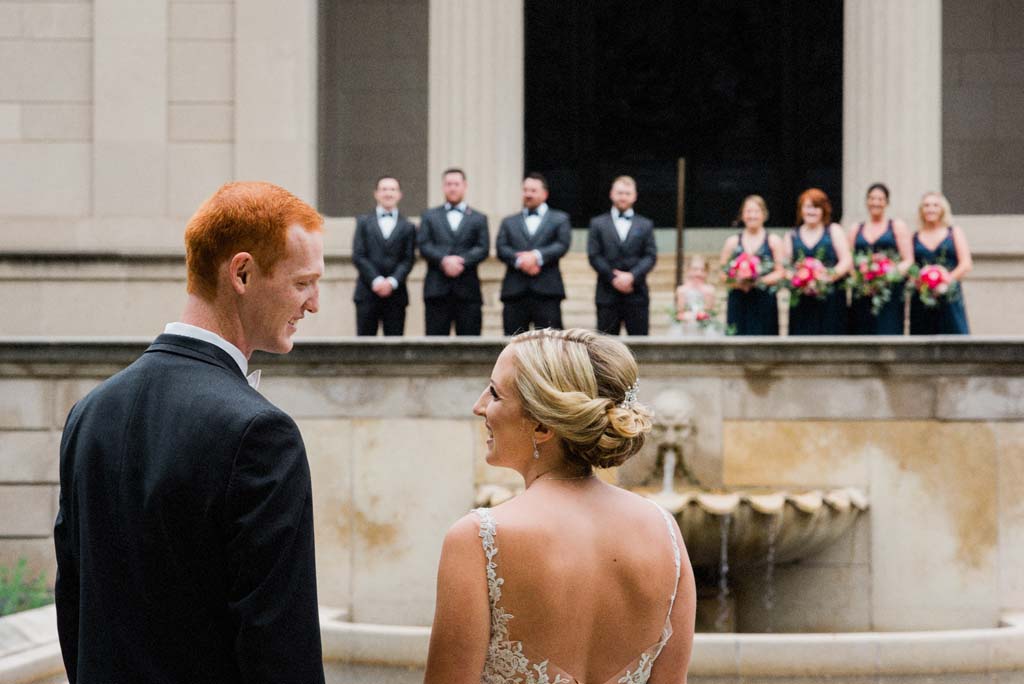 Manor House at Prophecy Creek is the perfect venue for a classic summer wedding. Megan and Patrick's day began with a few of their favorite locations in Philadelphia, before joining their guests for a lovely outdoor ceremony in Ambler, Pa. This classic wedding had the perfect combination of meaningful Philly locations, a serene venue with gardens and water features, and a great reception filled with laughter and fun.
Megan and Patrick live in Philadelphia and wanted to get ready in their homes. They had a large bridal party and both the guys and the girls had a house full of good friends and family. Glamour Girls did a beautiful job with the girl's hair and makeup. We took a few quick photos with the pups before getting on the trolley to head to their first look.
no images were found
First Look
The couple lives within walking distance of the Rodin Museum, and chose to have their first look there. First looks are great for couples who want to get the majority of their photos finished with before their cocktail hour so they can enjoy more of their reception. I love having two photographers for this portion of the day. Paul's big wide shots give great context to the chaos behind the scenes, while I can get in close to capture the emotion.
Rodin Museum
Philadelphia's Rodin Museum is one of my new favorite locations. It's so beautiful and there are lots of areas to photograph around the grounds. Make sure you get a permit to shoot there, it's not a lot and it's worth every penny. After we photographed the couple with their dog, Snoop. and the rest of the bridal party, we went for a photo walk with the couple. They read their vows to each other by the water of a reflection pool as people passed by. It was a perfect Philadelphia moment.
no images were found
Broad Street
We only had a few minutes for a quick few photos on Philadelphia's Broad Street. It's another fave of ours that we never tire of. The couples classic attire was perfect with the city lights of Broad Street.
Manor House at Prophecy Creek
The Manor House at Prophecy Creek in Ambler, Pa is a stunning venue for outdoor summer weddings. Make sure you schedule plenty of time at the venue for photos. There are so many spots with everything from gardens, to water features and even rustic old barns. The staff is always a pleasure to work with. Their events are always run flawlessly.
no images were found
Outdoor Summer Ceremony
Ron Mulray of Philadelphia Flower Company did an unbelievable job constructing a giant circle as a background for the ceremony. Although the rain threatened to come down, somehow it stopped just before Megan walked down the aisle. I loved all the pops of pink flower petals the guests threw as they made their exit as husband and wife.
no images were found
Reception
The Manor House at Prophecy Creek was filled with succulents and white florals. Such a classic look filled with summer wedding inspiration for a beautiful summer wedding.
no images were found
Night Portraits
We always love taking a few minutes for night portraits and Megan and Patrick were all about it! There was just enough moisture in the air to back light those pretty raindrops for some super romantic night portraits. It's such a beautiful way to end the day.