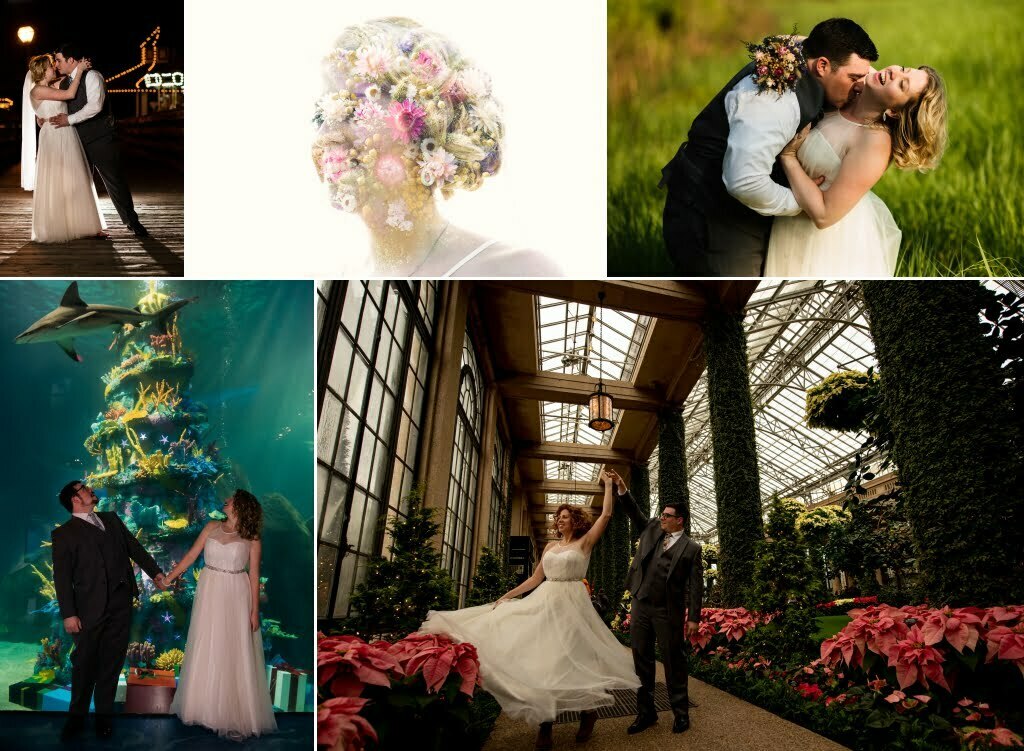 As if anyone needed further proof that we have the most awesome clients ever, I must share the past 5 years of Lauren and Charles' anniversary shoots!
Lauren and Charles hired me for their wedding through the national studio I work for, George Street Photo. It's a studio I love working for, but I don't get much chance to get to know my GS couples before their wedding. We only get one phone call before the wedding, however, even from that one phone call, I felt an instant connection to them. Their wedding was a sun drenched day filled with laughter and easy spring vibes. A year later, Lauren reached out to me with her idea of breaking out their wedding attire for an anniversary shoot and trying to keep it up every year! It was such a cute idea, and a great shoot.
Almost 5 years later, and we just finished our 3rd amazing anniversary shoot with them. They're such a fun couple that it's become a great little project finding different locations for their shoots. This year we did Longwood Gardens and it's probably my favorite so far. I truly look forward to our little 90 minute field trips. I'm so grateful to photograph them over the years, I can't wait to see where I can make them dance next year!
I loved Lauren's non-traditional dress and dried flower bouquet. She even indulged me in giving me time for a killer double exposure using her bouquet as texture. I MUST remember to start doing these at our anniversary shoots!
The first anniversary shoot was at Batsto Village in New Jersey. It's such a beautiful spot for a rustic shoot, and there's no permit needed. There's no entrance fee and lots of cool nooks and crannies. It's great for outdoor shoots when the weather is beautiful.
Anniversary shoot number 2 was SO cold, we had to find an indoor spot. Adventure Aquarium was loads of fun, and I think we really got some great images. Note to photographers: It's a tough place to shoot. Be prepared to have to work around crowds, it's super dark, you can't use off camera flash, and you have to watch for flash reflections in all that glass. That being said, it's never a bad thing to spend the day at the aquarium, and we did get some super cool images.
This year were determined to stay warm and Lauren wanted some Holiday cheer. Longwood Gardens fit the bill perfectly! No flash is allowed at Longwood, but there's tons of natural light throughout, and the Holiday decorations are pretty epic. It's a fabulous location any time of year.