Part 2: Local Hangouts
Part 2 of our latest series on fabulous locations for Philly engagement photos is all about the local hangouts. I like to think of local hangouts as a stop in your engagement session that has personal meaning. Maybe it's your favorite cafe where you spent time getting to know each other, or a local bar where you go for Taco Tuesdays. It can be your favorite spot to share a Philly Cheesesteak or the restaurant where your fiance proposed.
The local hangout is great for a few reasons. For couples who are a little nervous about having their first professional photos taken, there is little more comforting than being in a spot that's familiar. Your brains can take a break while you fall into a routine that's comfortable and relaxing. This is more of a lifestyle portion of your session, where we just photograph you interacting with each other in a natural way. It also gives you an activity to do so you're not thinking about how you look, but are being more present in the moment. And for some of our clients who may not be too excited about an engagement session (yes, grooms, I'm looking at you!), stopping at their favorite bar at some point in the day is definitely a guaranteed highlight.
A few other perks to the local hangout as a stop in your engagement sessions? For couples wanting to change up their outfits, a real bathroom is definitely a bonus. And since we often book shoots too far in advance to know what mother nature is going to throw at us, a stop to warm up in the winter, or cool down in the summer is a nice way to break up your shoot. Most local hangouts are more than happy to let us stop by for a few photos and we're always happy to provide them with photos, as long as our couples agree to it.
There are so many amazing local hangouts in Philly, I always encourage couples to choose a spot that special to them. But just in case…here are a few of our favorite moments from couples who said "yes" to a break in their shoot at some of their favorite Philly spots. Click on the photos to see more from these stops in our clients engagement shoots.
Courtney and Dave wanted to start their engagement shoot with a cup of coffee at their favorite cafe, Milk and Honey. When the two first started dating, Dave's apartment was nearby and this was one of their favorite spots. I loved all the warm wood and piles of books. Located in the Queens Village section of Philadelphia, there are lots of cute historic streets nearby for some romantic shots on the cobblestones.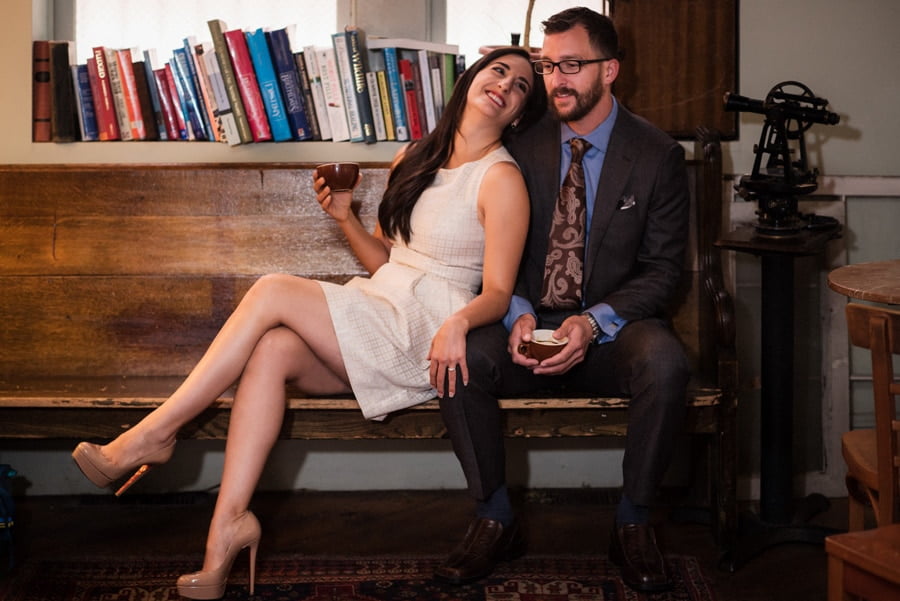 In the old city district of Philadelphia, one of Megan and Reed's favorite spots for dinner and drinks is the Revolution House. It's second floor is flooded with natural light and exposed brick. The staff couldn't be any friendlier, and it's close proximity to Elfreth's Alley makes it a great choice for couples who want photos in the country's oldest residential street.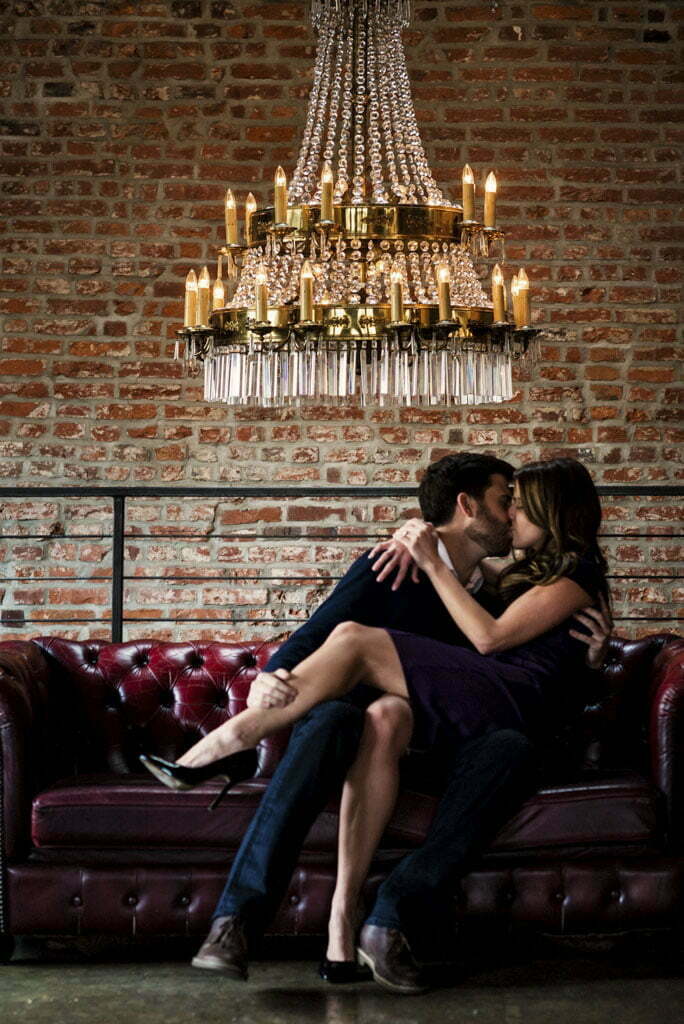 Christie and Ryan liked the idea of a local hangout spot, but since they didn't in live in Philly were open to suggestions. Since we were hitting the Magic Gardens first, Tattooed Mom (which happens to be everybody's favorite hangout) was the perfect spot to bring them. A South Street favorite that is a hub for local artists and performers in the community, they opened the doors of their second floor for a private engagement shoot. The couple even got a poker chip good for a lifetime of drink discounts. And if that's not a perfect ending to an engagement shoot, I don't know what is.
No Philly hangout post would be complete without a nod to the Philly Cheesesteak. No matter what your favorite go-to spot for cheesesteak's, Geno's is a pretty epic spots for photos with a local Philly flare. Eva and Adam's engagement shoot started at the Italian Market for lunch and we hooked up later for a stroll around Pat's and Geno's. Perfect.
Sarah and Zahava were college sweethearts at a local university where they also chose to be wed, so we were surrounded by spots that were incredibly special to them. The Quadrant Book Mart and Coffee House in Easton, Pa was a perfect spot to cool off and explore some nooks and crannies in the light filled book shop.