Part 3: The Classics
Part 3 of our latest series on fabulous locations for Philly engagement photography is all about the classic Philly engagement locations. This is the blog I never thought I'd write, or love, or shoot for that matter! Anyone who knows us, knows that we didn't get into shooting weddings to shoot what everyone else does. It was a happily unexpected surprise to find that I really love shooting in these spots and the challenge of finding new and unexpected ways to incorporate them into our work.
The classic engagement spots around Philly are great for many reasons. If a couple is planning an elegant Center City wedding, cute photos from the area when you don't have the restrictions of timelines or waiting guests is a fun way to announce your upcoming wedding to your guests. If you're from Philly, you'll probably notice that I've left the big Broad Street shot with City Hall in the background out of this list. I love the shot, but it's not my favorite for engagement shoots unless the couple is really dressed up and it's a night shot. I just find it such a grand shot, it's a little odd to me if a couple is in jeans or it's a mid-afternoon shoot. But that's just me, if you love it and want it for your engagement photos…let's go! Click on the photos for more from each session!
Race Street Pier is a great spot for photos. The architecture of the bridge and stairs is always interesting and fun to play with. The blues of the bridge and water is lovely and there pretty views of the city. This is a also a great spot if you want to include your dogs into your photos.
Pro Tip! There's a new sign posted about needing a permit to shoot there, but I still haven't had anyone ask us for one. The light can also be particularly harsh on a sunny day. It's definitely better later in the afternoon or on an overcast day.
A great location for photos any time of day and no permit needed. I love it for dramatic night portraits with the views of the Parkway. During the day there are lots of options for photos by walking around museum and surrounding water works area. Lots of sweeping views and interesting nooks and crannies for different types of shots.
Pro tip! Few people know you can actually drive to the top of the museum steps so you don't have to have a "Rocky" workout to get beautiful photos. Couldn't be any easier for a quick, pretty shot. You can even drive a bus there during the day for shots with the entire bridal party.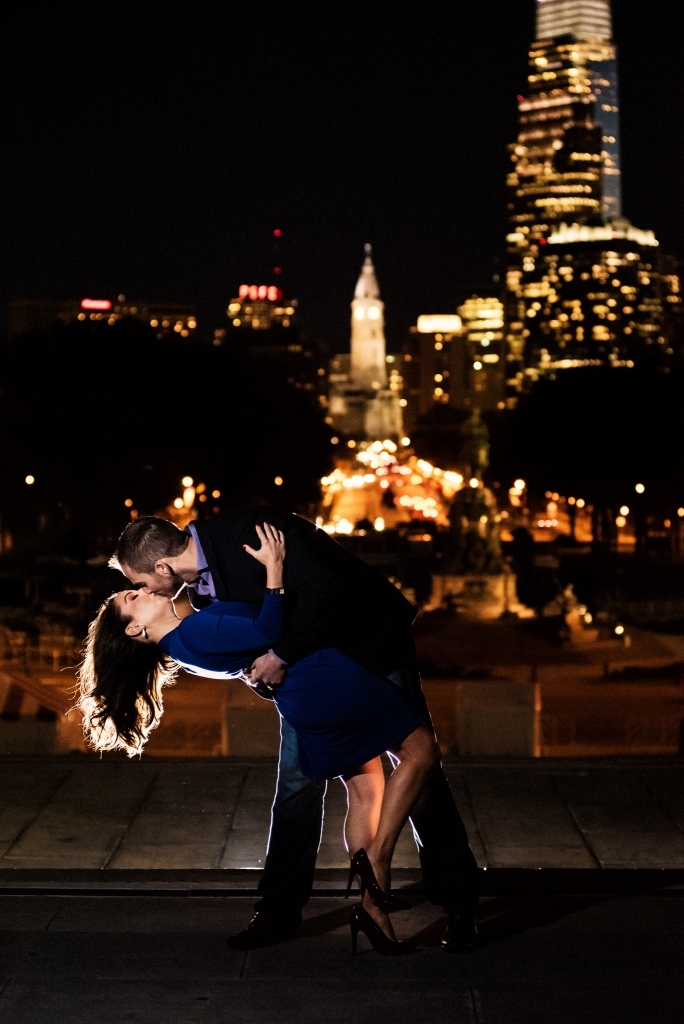 Centrally located, Rittenhouse Square is one of those classic locations that's perfect no matter what the season. It's great for couples who want to dress up, or who want a more casual "stroll in the park" vibe. I also love some of the surrounding restaurants for cute, outdoor cafe photos, and there are lots of alleys and busy corners for some city shots.
Pro Tip: Don't rely on street parking in the area. If you have to bring a car, there are plenty of reasonable lots in the area.
Nothing says classic Philly like the nation's oldest residential street. The cobblestone streets, historic buildings and rich fall colors of the Early American structures make for a romantic backdrop for engagement sessions. As it was built to provide tradesmen alternative access to the river when Philadelphia became a bustling city where land owners bought up all the property near the ports, it's still a perfect way to easily shoot at both Race Street Pier and Elfreth's Alley.
Pro Tip: It's a very small street with limited opportunities. I like to make it one stop on a photo walk route.
Is there anything more romantic than a train station? As part of our own love story revolved around many hellos and goodbyes (cameras in hand) at that station, it's definitely a sentimental spot for me. I'm always surprised they don't require a permit to shoot there, and it's a perfect spot if the weather isn't ideal and you need an indoor option. There are also pretty spots for some outdoor shots in the area.
Pro tip: Don't limit yourself to the main lobby for photos. The platforms are flooded with natural light, and if you slow your shutter speed, you can get some gorgeous train blur in the background.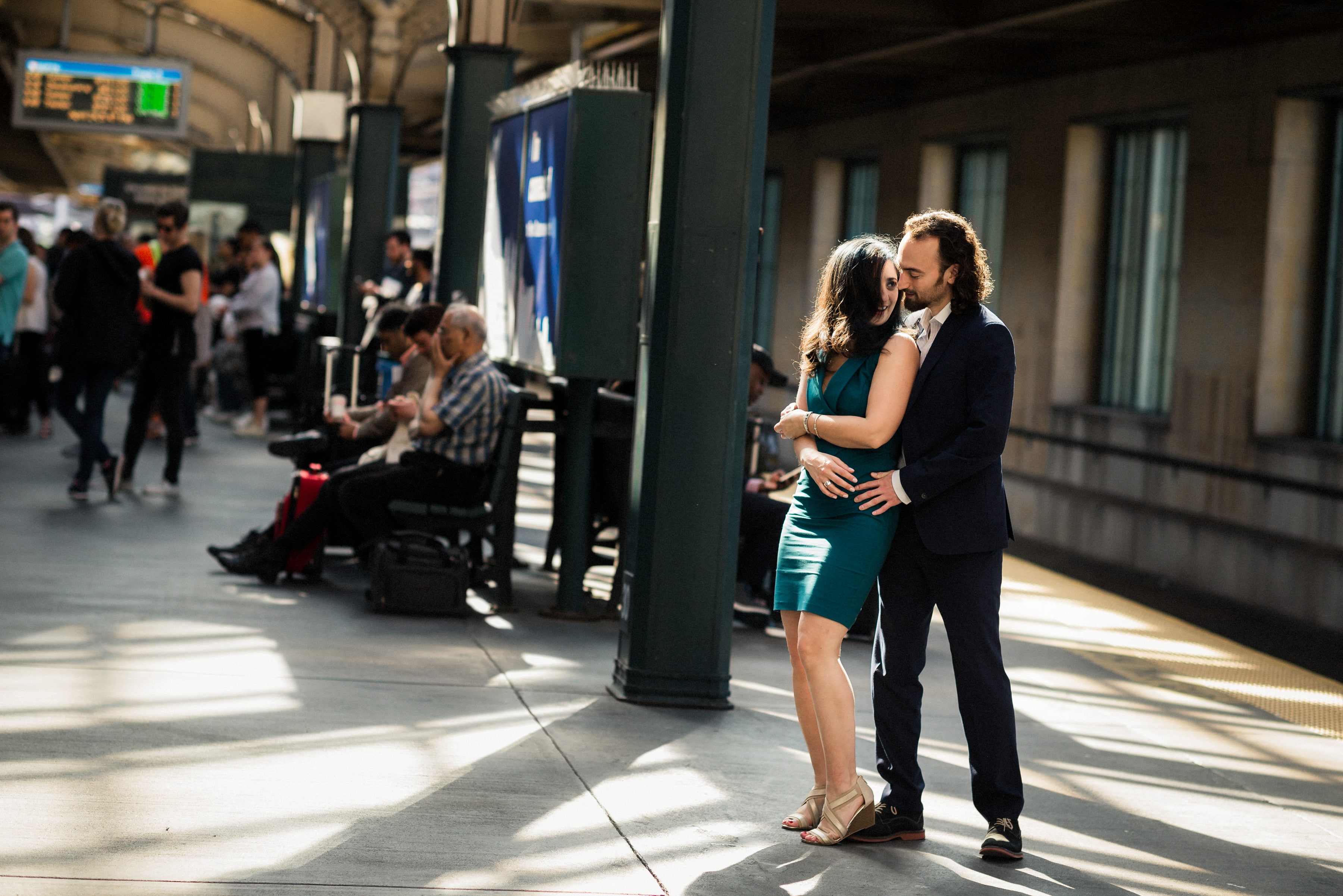 And that's it for this week! Join us next week for part 4 of Philly engagement locations. Street art or Philadelphia nature? Hmmmmm…stay tuned!
Philly Engagement Locations: Part 1, Unique Locations
Philly Engagement Locations: Part 2, Local Hangouts