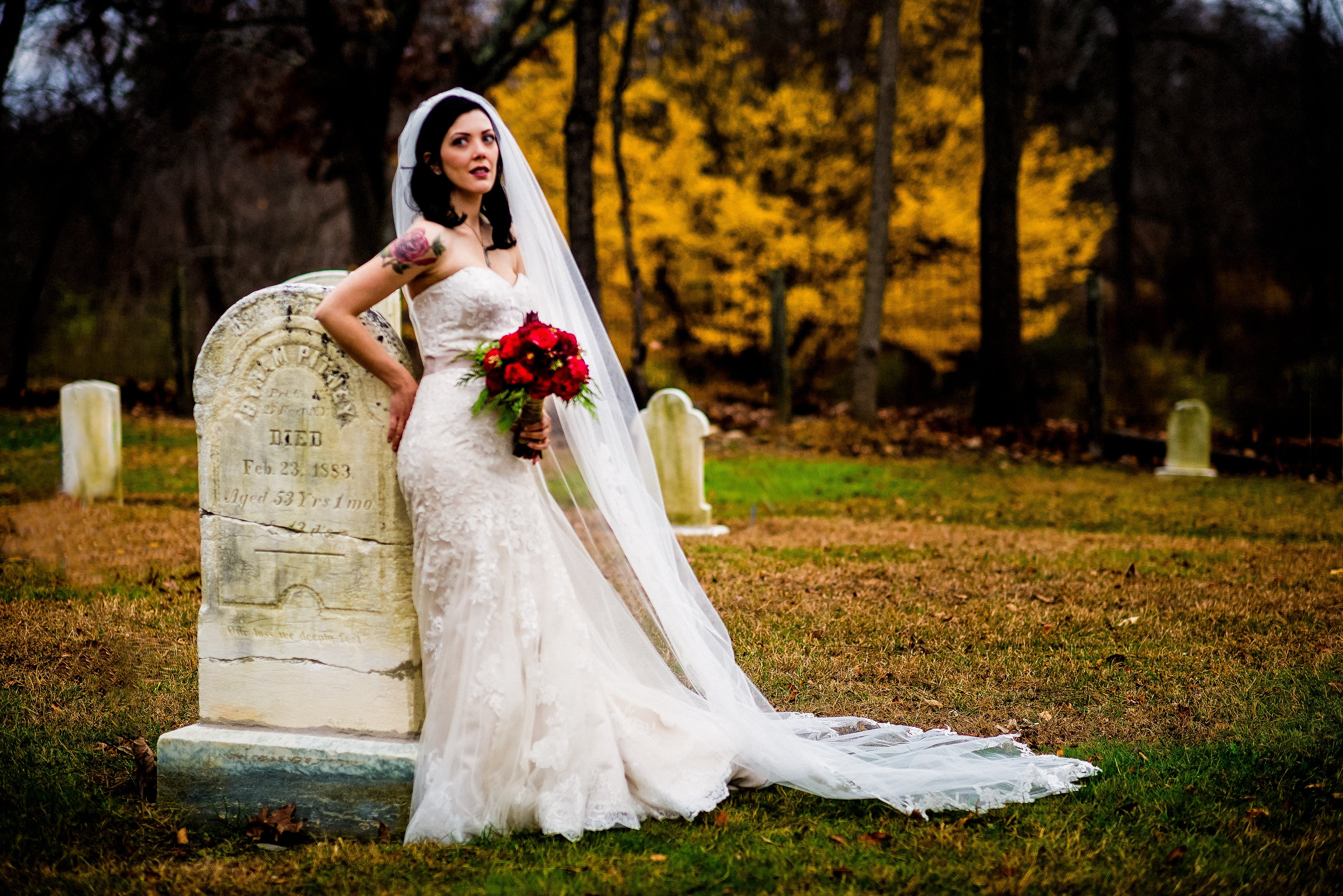 We are the luckiest wedding photographers on the planet. Every now and then we wander into the lives of a couple who's wedding combines everything we love most about our career, and the reason we were attracted to wedding photography in the first place. We knew from photographing Ryan and Christie's amazing South Street engagement shoot that we were in for a treat with their totally cool Waterloo Village fall wedding.
Christie was one of the most beautiful brides I've ever seen. Her stunning rose tattoo was perfect with her red bouquet. A big, dramatic veil with cool jewelry and a "Just Married" denim jacket made the happiest photographer ever. Her badass bridesmaids in black leather jackets were like my dream crew, and I wonder if she has any idea how many mini emergencies her sister averted throughout the entire day. It was truly a thing of beauty.
We loved that Christie and the girls wanted to shoot in the cemetery at Waterloo Village. It is always our goal to create stunning wedding photography even for our most off-beat, unique weddings, so it was a thrill to revisit cemetery bridal portraits, as we did in Laurel Hill Cemetery, which became Offbeat Bride's third most viral posts of all time. Waterloo Village provided tons of great backgrounds for photos, and the bridal party colors and of rich plums and greys were perfect with the weathered rustic buildings and barren trees. Their cozy, romantic ceremony took place in front of a roaring fire place, under the glow of warm chandeliers.
I love that their family formals weren't so formal, but perfect for the day, and we managed to squeeze in some super cool bridal party photos after the sun went down. A bonfire with s'mores was the ultimate ending to the evening, and I couldn't have chosen a more perfect couple for what we love to do. Thank you Christie and Ryan for allowing us to photograph your day!
no images were found