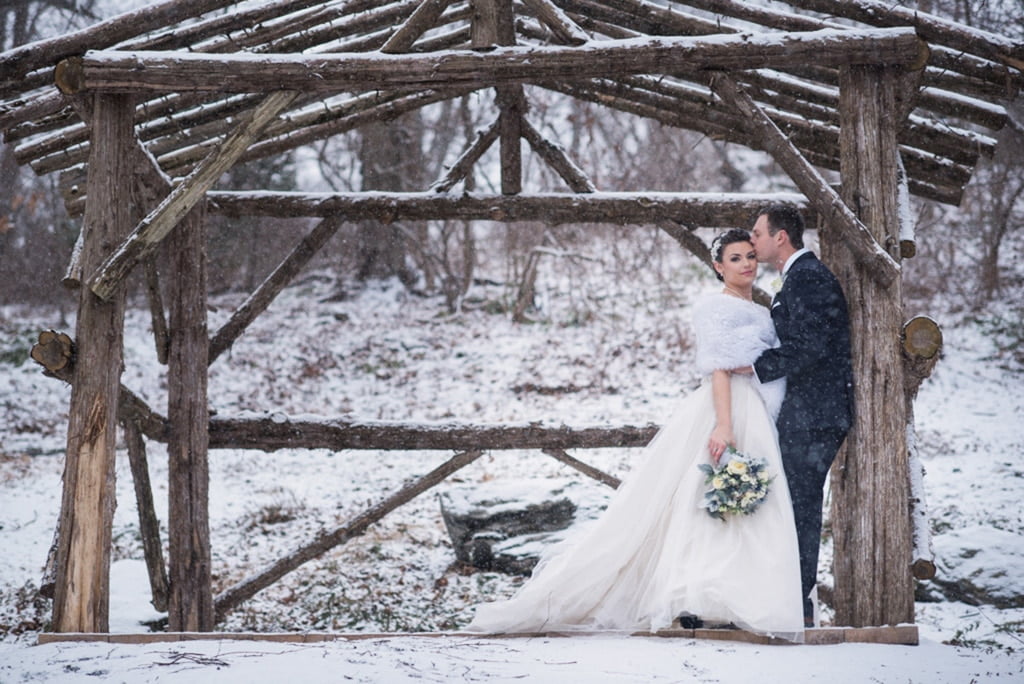 The Stroudsmoor Country Inn is the perfect wedding venue for a snowy Pennsylvania winter wedding. As a Philadelphia wedding photographer, I've decided there's no other choice but to embrace the cold winter weddings and all that come with them. Although yesterday was technically the first day of spring, the season of Nor'easters in Philly has me reminiscing about some of the beautiful winter weddings, engagement shoots and family photos that we've been fortunate to create art from. There have been sophisticated, elegant weddings in Rittenhouse Square, the twinkling holiday lights of Pennsylvania country clubs, snowy Philadelphia engagement shoots, and fun family romps in the snow. So instead of looking out of my window and crying over still seeing the wet, cold stuff, I'm taking a look back at all the beauty of some of our favorite winter shoots! Need some winter wedding inspiration for yourself or a friend who's planning a wedding? Make sure to check out our Pinterest Board all about winter photo shoots!
Jackie and Andrew at the Stroudsmoor Country Inn
Jacqueline and Andrew were introduced by their parents when they were 13 and 14 years old. Andrew was Jackie's first boyfriend and their relationship has always been filled with the outdoors, adventure and travel. They knew they wanted to celebrate with a winter wedding, and the Poconos was the closest they could get to the mountains without having a destination wedding. Jackie wanted nothing more than snow for her wedding day, and mother nature obliged in a perfect way. There is truly nothing better for beautiful wedding photos than totally embracing the elements. Knowing how excited Jackie was about taking photos in the snow gave us the freedom to make suggestions we thought she'd love, without fearing that she was cold, miserable or worried about her dress getting a little snow on it. A guest is never going to notice a little mess on the hem of a gown, but bridal portraits with snowflakes in her hair are something truly unique that will last a lifetime.
The Stroudsmoor Country Inn is truly an amazing venue in the poconos. With several different sized wedding venues, chapels, options for indoors or outdoor ceremonies, the facility even has it's own wedding salon with an exceptional team of makeup artists and hairstylists. Jackie took advantage of their services and they did everything, except for the photography, thank goodness! The winter palette of cool greys and deep blues were perfect with the Stroudsmoor's beautiful winter bouquets, wedding invitations, fabulous cake and Jackie's beautiful headpiece. We took the bridal party to the property's Crestview Chapel as our first photo spot. Unfortunately the stunning view was obscured by near white out conditions, but the couple and their fearless friends caught snowflakes on their tongues, swung some axes and totally rocked the weather.
From Jackie: "The best part of our day and we both agree, aside from the ceremony, was the snow. Planning a winter wedding comes with its concerns about weather, but we wished for snow! It started snowing right in time for our first look and pictures. Even though some of the girls were cold, everyone agrees that it was worth it! For the ceremony we served hot chocolate and blankets. We wanted to make sure our guests felt cozy despite the temperature. The ceremony was under a pavilion which was open on a few sides. The snowy background was perfection. Black White and Raw Photography captured our wedding and and all of its magic".
The Stroudsmoor Country Inn is also really kind to their vendors. I adore winter weddings, but it's also a challenge and physically exhausting. Hauling heavy bags and lightstands in the cold while wrangling bridal parties and trying to avoid end of the season injury is rough and nothing is nicer than a venue that makes sure you get a cup of hot chocolate, or a nice warm dinner. Just enough time to recharge our bodies batteries, and pry the bride and groom off the dance floor for a snowy night portrait. A short walk to Woodland chapel for a crisp winter night portrait was the perfect ending to a perfect winter wedding.
no images were found
Didn't get enough of this gorgeous wedding? You can always hop on over to Philly in Love, who blogged about it as well!